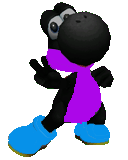 Timer
is a character made by Peanutjon. He was one of PJ's original characters, but was left behind when PJ first left. Recently, he was taken in by Peanutjon's new company, Fun Dimension Inc., and is now confirmed to appear in Brick 'n' Block 2: Shapes of Measure along with his girlfriend,
Timette
, and a couple unnamed Yoshis who look like him. Later, Brick 'n' Block was also removed when PJ left again. But he may appear in the
Nutzo series
.
Appearance
Timer is a black Yoshi, with a strange appearance. He has purple where Yoshi would be white, and wears blue boots along with a blue saddle. His scales are also green.
See Also