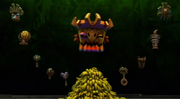 The Tiki Tak Tribe is an evil troop who want to take over Donkey Kong Island. The origin of the Tiki Tak Tribe Leaders is unknown, but the troops is created from Donkey Kong's bananas, with Colonel Pluck controlling the Stompybot 3000. This troop appear for the first time in 2010 Retro Studios Wii platformer Donkey Kong Country Returns. The Tiki Leaders are known to hypnotize others, including the animals. However, they failed to hypnotize Donkey Kong.
Tribe Members
Leaders
Grunts
Gallery
Ad blocker interference detected!
Wikia is a free-to-use site that makes money from advertising. We have a modified experience for viewers using ad blockers

Wikia is not accessible if you've made further modifications. Remove the custom ad blocker rule(s) and the page will load as expected.