Tiki Boing did not originate from fanon, and more information can be found on their respective wiki(s). You may read more about it on the following wiki(s):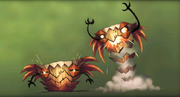 Tiki Boings are members of the Tiki Tak Tribe that appears in the Donkey Kong series. Their appearance slightly resembles the Tiki Goon's, being that they are both drum-like. Tiki Boins can use their wing-like appendages to jump high to attack the Kong characters that approach them, and can also stay afloat in the air for a time.
Ad blocker interference detected!
Wikia is a free-to-use site that makes money from advertising. We have a modified experience for viewers using ad blockers

Wikia is not accessible if you've made further modifications. Remove the custom ad blocker rule(s) and the page will load as expected.