Tikal the Echidna
Comment

1
18,093pages on
this wiki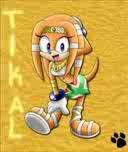 Tikal the Echidna is a female echidna from the Sonic series. She has made a major appearance in Sonic Adventure, a minor appearance in Sonic Adventure 2 and a fusilade of cameos.
She is a part of the ancient Echidna tribe that made its first debut in Sonic Adventure and was further explored in Sonic Chronicles: The Dark Brotherhood. Tikal sometimes talks to Master Emerald for help; this can be attributed to her father being decidedly reckless, the leader of the tribe and prone to taking lots of risks that could cost the lives of the tribe.
Tikal makes an appearance in Sonic Heroes 2. Here, she is dazed and confused; with Knuckles discommunicating himself until further notice, Scourge on the run, an incensed Eggman Nega and Metal Sonic storming off in a huff and Shade, not being able to run as fast as Knuckles, being the only one visible, what has happened is unknown to Tikal (thus presenting dramatic irony).
Tikal is set to appear in the upcoming Sonic Final Battle Genesis. She is a member of Team Echidna, a team comprised of herself, Emerl (who happens to be rebuilt), and former member of Team Heroes (formerly known as Team Sonic), Knuckles the Echidna. During the long time gap between Sonic Generations and Sonic Final Battle Genesis, Tikal, through the use of the Master Emerald, has travelled to modern times and began forming Team Echidna after Emerl was resurrected from the Chaos Emerald his soul was encaged in after the events of Sonic Battle. Around that same time, Knuckles realized that he had been leaving the Master Emerald alone far too frequently, and vows to stay on Angel Island forever, like he was destined to be. When Tikal and Knuckles meet again, they get to know each other, and Tikal teaches Knuckles some Echidna techniques, like Thunder Arrow and Gaia Quake, thus leading him to join Team Echidna and leave Team Heroes. Tikal senses the villain, Necrobius, causing havoc on a faraway planet, and she builds a magic Chaos forcefield around the Master Emerald before she takes off with Emerl and Knuckles to stop the ancient Echidna villain.
==
==