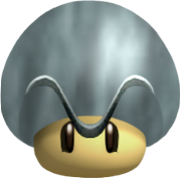 The
Thwomp Mushroom
is a rare variant of the
Mushroom
which, when consumed, changes the consumer into their
Thwomp
Form. When the consumer is in their Thwomp form, they can float in the air and can crush their opponents by squashing them during the consumer's decent. The only way to die when you are in your Thwomp form is to fall into the abyss, which, Unlike most Power-Ups, kills the player instantly.
Appearances
Thwomp Mushrooms make their debut in this game, and as said above, Are a rare variant of mushroom which transforms the consumer into a Thwomp, giving the ability to float and crush enemies
Ad blocker interference detected!
Wikia is a free-to-use site that makes money from advertising. We have a modified experience for viewers using ad blockers

Wikia is not accessible if you've made further modifications. Remove the custom ad blocker rule(s) and the page will load as expected.