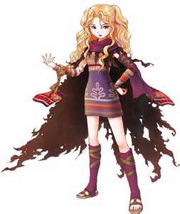 The Witch Princess is a character from the Harvest Moon Series and is in most of the series games. The Witch princess made her first appearance in the 2014 fanon game Harvest Moon: A Land Between Time which is once again, portrayed as the main Antagonist of the game. She will occasionally will get hot-tempered and make things happen the way she didn't plan, but always tries to fix them with the help of the player. The Witch Princess is rumoured to be playable in the next Fanon installment of the Harvest Moon Series.
[[Category:Characters}}
Ad blocker interference detected!
Wikia is a free-to-use site that makes money from advertising. We have a modified experience for viewers using ad blockers

Wikia is not accessible if you've made further modifications. Remove the custom ad blocker rule(s) and the page will load as expected.