The Super Smash Bros. Super Show!

Fighting the bad guys... when they aren't fighting each other

Producer(s)
JCM
Distributor(s)
None
Broadcaster(s)
Fan TV
Type
Animation
Genre(s)
Comedy, Action, Adventure
First Air Date(s)
March 10, 2012
Age Rating(s)
TV-Y7-FV
Season(s)
1
Episodes
7
The Super Smash Bros. Super Show! is an animated series about the day-to-day happenings of popular video game characters. It was created by JCM as a parody of The Super Mario Bros. Super Show!. Updated whenever.
News
July 2, 2012 - We're back, baby! See this conveniently named blog for more details.
March 25, 2012 - So, people apparently follow this show. Sorry for not updating yesterday. A bout of writers block got the best of me. Part Two of Episode Two is up, so make sure to check that out! I'll probably add episode three, also, just for good measure.
March 17, 2012 - It's the show's first episode or something!
Intro
It'll be something like this: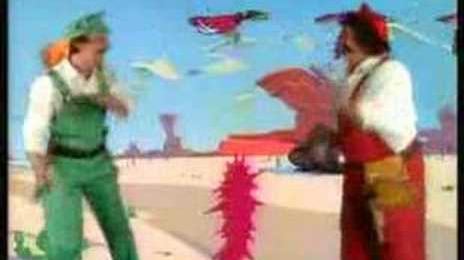 Only with more grown men in silly costumes dropping cheesy rhymes.
Hey, folks I've never met! It's The Super Smash Brothers Super Show!
It's the biggest crossover
The world's ever seen
It's the sixteen-bit culture
On your telev-a screen!
We come from all walks of life
And we argue day and night
It's true that we hate each other
But screw it, we're the Smash Brothers! Uh!
You won't get bored of the Brothers!
I've gotten all your hopes up
You're now expecting cool stuff
Well sorry, don't push your luck
It's really just gonna suck!
You'll deal with plumbers, with hedgehogs, with robots, and others!
Word to your mother, you'll get bored of the Brothers!
Ad nauseum!
Uh! Uh! Huh, huh, I said buh-buh-buh-buh-bored of the Brothers!
Episodes
Each episode will be written to fit a fifteen-minute time slot. Each episode consists of:
Title Slide: It's like a slide, only with a title.
Cast: A list of trademarked names I have no rights to whatsoever.
Plot: Or whatever I can pass off as a plot.
Songs: My bad taste in music.
Credits: It's basically my name a million times.
| | | |
| --- | --- | --- |
| Name | TV Description | Air Date |
| | Mario finds himself on a distant planet, where he butts heads with a blue hedgehog. | 3/10/2012 |
| | The heroes find themselves stranded in a desert, and Mario gets assistance from an unlikely newcomer. (Two-Parter) | 3/17/2012 |
| | Tails has been kidnapped, and it's up to the gang to retrieve him. Will they fail? Of course! How will they fail? Stay tuned to find out! | 3/25/2012 |
| | Ganon discovers a mysterious switch-up, and Link joins Mario and the gang on their quest. | 7/2/2012 |
| | The gang finds an abandoned kitten-like creature with an electrifying personality.</bad pun> | 7/3/2012 |
| | Let's see what's going on at the Mushroom Kingdom. | 7/5/2012 |
| | I'm pretty sure Kirby's still a thing. | 7/6/2012 |
| | In the first episode of the Super Smash Bros. Super Show in months, something will actually happen! | 11/1//2012 |
Pictures and stuff
Ad blocker interference detected!
Wikia is a free-to-use site that makes money from advertising. We have a modified experience for viewers using ad blockers

Wikia is not accessible if you've made further modifications. Remove the custom ad blocker rule(s) and the page will load as expected.