A famous band from the desert parts of the Mushroom Kingdom. They play guitar (center), accordion (left), and maracas (right). These Shy Guys are also loyal allies to Mario & his friends.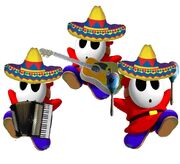 They're Mexican, but speak perfect English.
Trivia
This band is based off of the Shy Guys from the new August trailer of Paper Mario: Sticker Star.