The Rusty Bucket is a stage in Super Smash Bros. 61.
Description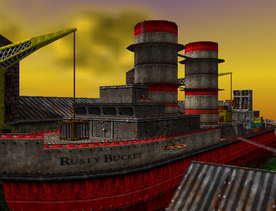 Universe
Banjo-Kazooie
Home Stage to none
Status Beginer
Size Small

The Rust Bucket includes lots of crates. There are small cranes acting as platforms and saftey when the ship sinks into the oily water! Watch out for the oil slicks, however, because you might get stuck, or worse, slip off the ship!

Ad blocker interference detected!
Wikia is a free-to-use site that makes money from advertising. We have a modified experience for viewers using ad blockers

Wikia is not accessible if you've made further modifications. Remove the custom ad blocker rule(s) and the page will load as expected.