Ad blocker interference detected!
Wikia is a free-to-use site that makes money from advertising. We have a modified experience for viewers using ad blockers

Wikia is not accessible if you've made further modifications. Remove the custom ad blocker rule(s) and the page will load as expected.
The Nintendo Cinematic Universe is a Nintendo's Franchise expanded in movies and television series.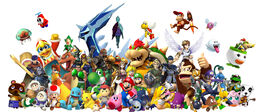 All of this movies of Nintendo are redected in Phases.
PHASE 1:
1- Metroid
2- Kirby's Dream Land
3- Metroid 2
4- The Legend of Zelda
5- Super Mario Bros: The First Hero
6- Super Smash Bros
PHASE 2:
1- Metroid 3
2- The Legend of Zelda: Dark World
3- Super Mario Bros: The Anti-Hero
4- Star Fox
5- Super Smash Bros: Age of Mother Brain
6- Kid Icarus
PHASE 3:
1- Super Mario Bros: Mushroom War
2- EarthBound
3- Star Fox 2.0
4- Sonic the Hedgehog
5- The Legend of Zelda: Triforce
6- Xenoblade Chronicles
7- Super Smash Bros: Infinity War Part 1
8- Kid Icarus and Goddess of Light
9- Pokemon
10- Super Smash Bros: Infinity War Part 2
11- The Defenders
TELEVISION SERIES:
1- Agents of SMASH
2- Captain Falcon
3- Pikmin
4- Metal Gear Solid
5- Bayonetta
6- Street Fighter
7- Final Fantasy
8- Eclipse Slayers