The Minion Show Kart ( Origanally called The Minion Show GO! ) is a 3D Racing game and is based on the web series The Minion Show.It will be released on April 20,2014.
Gameplay
The Game play is mostly like the same as Angry Birds GO! and the Mario Kart Series,but with different ways and picking new karts in the outside of Gru's House.
Characters
Stuart
Kevin
Crazy
Dave 
Jerry
Bowser
Mario
Luigi
Elsa
Slender
Foxy
Unlockable Characters
Anna         ( Finish Wrench and Banana Cup on 50cc )
Sully          ( Finish the tourtement's first boss,Robo Gru )
Peach        ( Finish 1-UP and Icicle Cup on 50cc )
Jack           ( Finish Anna's Rainbow Road,3 Times )
KIng Pig      ( Unlock The Special Track,Kevin's Stunt Track )
Coropal PIg ( Finish the tourtement's 7th boss,The Duke of Wesleton )
Forman Pig  ( Finish all the cups 50cc and 100cc )
Puffball        ( Finish the tourtement's final boss,Evil Paper )
God            ( Unock Frozen Arendell or beat Evil Paper a 2nd Time )
Evil Paper ( beat him )
Leafy          ( Unlock all Special Tracks,150cc ONLY!!! )
Firey          ( Finish Yoyle land without falling )
April            ( Beat Robo Gru,4 Times )
Golden Characters ( Finish the whole game 100% )
Course's & Special Course's
El Macho's Lair
Mario Circuit
Slender Forest
The Mall
Yoyle Land
The Nether
Downtown
Acorn Plains
Sparkling Waters
Soda Jungle's
Meringe Clouds
Layer-Cake Desert
Frosted Glacier
Rock Candy Mines
Peach's Castle
Peach's Ice Garden
Ice Volcano
Arendelle
Elsa's Ice Palace
Overworld
The Village
The Ather
The End
Monster's University
Dream Island
Kictchen ( Element Animation Course )
Luigi's Factory
Bowser's Castle
Stuart's Workshop
Kevin's Workshop
Foxy's Cave
Mario's Rainbow Road
Steve's Rainbow Road
Anna's Rainbow Road
Stuart's Rainbow Road
Throwback Galaxy
Superstar Road
Gold Mountain
Champions Race
Special course ( 16 course's )
Kevin's Stunt Track
Golden Elsa's Ice Castle
Nintendo 3DS ( Course )
Herobrine Village
Airship Cannon's
Mushroom City
David Land
Frozen Arendelle
Storm Arendelle
Burning Forest
Arendelle's Ships ( Unlockable )
Space colluming track
Wii Wheel ( Inside )
Wii Wheel ( Outside )
Pillow Island
Mirror Course's ( Unlockable )
Items
Snowball
Triple Snowball
Wrench
Banana
Creeper head
Flying Creeper Head
Fake Metal Box
Red Shell
Triple Red Shell
Paint Gun
Boost
Triple Boost
Golden Bost
Monkey Wrench ( Rare )
Super Fake Metal Box ( Rare )
Special Items
Stuart ( Fart Speed )
Kevin ( Gunner 3000 )
Crazy ( Bananarang )
Dave ( Ice Cream Catipult )
Jerry ( Tornado Twirled )
Mario ( Metal )
Luigi ( Vaccum )
Bowser ( Bowser Shell )
Elsa ( Sharp Icicles 8x )
Slender ( Glitchy screen )
Foxy ( Fallin Exploting Cheetos )
Anna ( Heart Screen )
King Pig ( Ballons )
Sully ( Fasten Monster Boost )
Peach ( Blossems )
Jack ( Freezing Bombs )
Coropal Pig ( Bombs )
Forman Pig ( TNT )
Puffball ( Ranging )
God ( Heaven Speed )
Evil Paper ( Creepy Screen )
Leafy ( Evil Leafy )
Firey ( Burning )
April ( 5x Green Shell )
Gallary Artwork
Note:Artwork that is t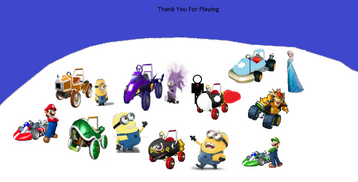 aken by me.
Ad blocker interference detected!
Wikia is a free-to-use site that makes money from advertising. We have a modified experience for viewers using ad blockers

Wikia is not accessible if you've made further modifications. Remove the custom ad blocker rule(s) and the page will load as expected.