The creator of this page does not speak English as a first language, so it may contain grammatical/spelling errors. As a reader, please feel free to make corrections as needed.
Developer(s)
Baptiste44
Publisher(s)
Nintendo
Platform(s)
Nintendo 3DS
Release Date(s)
2015
Mode(s)
1-4 Player
Age Rating(s)
Europe

American

Genre(s)
party
Series
Zelda
Predecessor
Mario party 9
Successor
 ???
Media Included
Nintendo 3DS cartridge

The Legend of Zelda Party is a spin-off 3DS video game title in the The legend of zelda franchise. It's developed by Baptiste44 Inc. and published by Nintendo.
Gameplay 
Bouton 
Stylet Select (Jump in minigames)
[B] button - Back
Joystick - Move (Only on the map or minigames)
Up, down, left, and right buttons - Selecting an item
[A] button - Boost (Only in minigames)
[L] and R button - Special Move (Only in minigames) (Link Triforce, Psychic Zelda, Twilight Midna, etc)
Modes
Party Mode - Where up to 4 players can play minigames.
Story Mode - Access to different worlds and minigames, fight bosses, and unlock collectables and characters.
Construction Mode - Create...
Options - Choose difficulty levels, sound and music volume, and other options.
Characters
Starter
Link (Skyward sword)
Zelda (skyward sword)
Tingle (Majora Mask)
Arielle (Wind Waker)
Midna (Twilight Princess)
Linebeck (phamtom hourglass)
Unlockable
Vaati (Minish Cap)
Skull Kid (Majora Mask)
Tetra (Phamtom Hourglass)
Sheik (Ocarina Of Time)
Ganondorf ( Wind Waker) [Not available in Story Mode]
Kimado (Spirit Track) [Not available in Story Mode]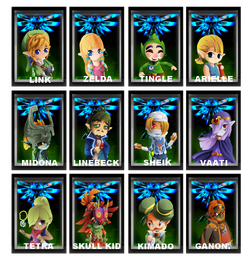 Stage( x = Unclockable)
Hyrule field (Spirit Track)
Dragoon Island (Wind Waker)
Celestbourg (Skyward Sword)
Water Fortress (Zelda Party) 
lost woods (Ocarina Of Time) x
Twilight World (Twilight Princess) x
Termina City (Majora Mask) x
Ganon tower (Zelda party) x
Story Stage
[the special course in this mode(S) are available after you finish the story mode 3 times]
Mojo Tree Forest (Wind Waker)
Magma Fortress (Zelda Party) (S)
Hyrule Castle(Spirit Track)  (S)
Twilight World (Twilight Princess) 
Ganon Tower (Wind Waker)
Twilight Celestourg (SS/Zelda Party) (S)
Bosses
Each boss is put in order in where course they are fought.
Ghoma (Ocarina Of Time)
Volcania (Ocarina of Time)
Kimado (Spirit Track)
Zant(Twilight Princess)
Ganondorf/Ganon (Wind Waker/Twilight Princess)
Ghirahim (Skyward Sword)
Gallery
Ad blocker interference detected!
Wikia is a free-to-use site that makes money from advertising. We have a modified experience for viewers using ad blockers

Wikia is not accessible if you've made further modifications. Remove the custom ad blocker rule(s) and the page will load as expected.