The Fury is a Fan Fiction made by Hi it is I 1337doom! 22:17, 29 June 2008 (UTC). It has 8 chapters ready, and will have more. It is also the Prequel to Legends of Zeel and sequel to Attack of Zeel, the latter being a comic.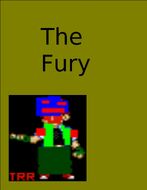 Do not edit.
Chapter List
1 .The Chasm

2. The Test
3.The Notebook
4. The Question
5.The Deletion
6.The Revolution
7.The Capture
8.The New World
9.The Ending
10.The Awakening
The Chasm
Ranger Q looked across at the hole in front of him. "Hoo, boy." he said. He had no help getting here, and would have no help getting across. "I have to get across here, if I want the bounty on Quarexes head!"he said. Thats when he noticed the cave. "Maybe this is a shortcut" said the desperate bounty hunter. He climbed in. It was Pitch Black. Ranger Q heared voices. "okay, Quarrex, you go along! I will capture him!" Ranger Q turned to run, but slipped and fell. "Ive got you now!" said Graveler, as Ranger Q's vision went black.
The Test
"Why did that Cappy send us into space?" said Kirby. "Hm... I don't know." said Logjam. "Perhaps it has to do with what happened to King Dedede"said Meta Knight. They had traveled for a long time, and recently, Dedede had been kidnapped and transformed into Dededoom. "Perhaps its the Dark One." said a voice. Behind them was an Electrogoomba. "Zeel is the being that will be created. He shall doom you." It was only a few seconds later when the group found them selves in an obstacle course. They cleared it with ease. But when they won, all they found was a monster. "You have failed the test!" it said. The monster, Electrospire, punched Meta. He fell to the ground, clearly in agony and pain. "You're next!" Electrospire said, which rather implied that he was finished with Meta. For Good.
The Notebook
Tabuus Notebook, Last Entry. My time has come. My son has teamed up with Squalls son. And I have finally encoded The secret. Perhaps, at the slightest moment, when agony, hatred, and destruction meet, a very powerful being is formed. At this time, people die left and... well, left. It is times like this when a powerful hero comes. But this powerful hero... er, heroes.... would come from somewhere else. Enter the 6.
The Question
Kirby and Logjam had defeated Electrospire, in exactly the time it had taken Tabuu to write his entry. In that same amount of time, Ranger Q had been blinded, and slaughtered. Kirby and Logjam continued on there quest, and saved Dedede and turned things normal in there lives. But not in Metas life... er, death. Marrow, the peddler, found Metas soul and sold it to Zeel for $29.95. Pretty cheap. But a question arose in Zeels mind. "What do we do when we run out of minions?" His minions were always getting destroyed... all that he really had to worry about though, was Sephiroth and the 6.
The Deletion
Cobweb worked for Zeel. One day McBob went to the Smash Tournament. It was fun, until COBWEB BLEW IT UP! Bye bye bob! 1337doom did not like this. He talked to Cobweb on the wiki, and Cobweb would not say "I'm sorry!" So sam blew up Cobby, the end! (That is your warning, cobweb! this had nothing to do with The Fury.....:l::::) )
The Revolution
Luigi, Ness, Captain Blue, Scourge, Regigigas, and Sephiroth were coming up the hill. "So, we have our first adventure..." said Sephiroth. "Amazing." When they got to the top, they were amazed to see the world in ruins. "OMG"said Ness. Sephiroth found out where Zeel was hiding: In COLLONKLES! So they rebuilt the world, and set a course Collonkles!
The Capture
Oshtyo ran down the road in a fit of rage. He was EXTREMELY mad. Incklezine had ran away. "I'll get you back!" He said. "Soy! Don't run so fast! Yous mights tripes!" said the Meer Hue by the name of Pabliscdisc. "Have a hot dog!" But Oshtyo was not interested in hot dogs. He wanted Incklezine! And he would do anything to get him!
To Be Continued!
Ad blocker interference detected!
Wikia is a free-to-use site that makes money from advertising. We have a modified experience for viewers using ad blockers

Wikia is not accessible if you've made further modifications. Remove the custom ad blocker rule(s) and the page will load as expected.