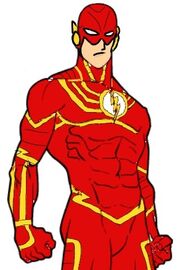 The Flash is a fictional DC superhero who goes under the alter-ego of Barry Allen.
Appearances
Justice: Apocalypse
With many of his allies slain by Darkseid's forces, Barry Allen becomes a member of a different resistance team sworn to kill the Apokolips overlords, including Darkseid himself. But with the time machine invented, The Flash takes this opportunity to prevent the errors of the past.
Trivia
Gallery
Ad blocker interference detected!
Wikia is a free-to-use site that makes money from advertising. We have a modified experience for viewers using ad blockers

Wikia is not accessible if you've made further modifications. Remove the custom ad blocker rule(s) and the page will load as expected.