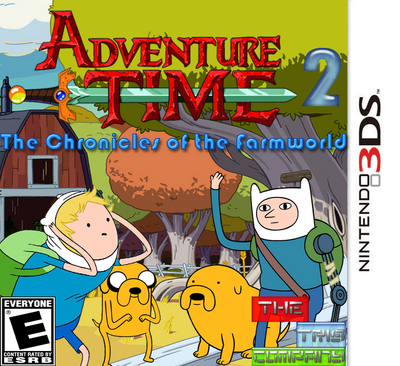 HEY GUYS, it's Senior Waldio today for *sigh* Adventure Time!(Depressed)(Cries  Lightly) Is it annoying like the show, or does it rise above it televised counterpart. Let's jump right in!
Story
Okay nice story and all, but where's the explanation. I HAVE NO IDEA WHO THESE PEOPLE ARE. Maybe include a prologue that elaborates on the origins of these two characters. Other then that, the story is nicely written with only minor errors.
4/5
Gameplay
Good? Short but sweet, it doesn't do it's job to well.
3/5
Characters
Hmm. I'll just move down to the characters sectio....WHERE'S THE DESCRIPTION? Not complete, I'M LOOKIN' AT YOU SUPOREIA MALDIO WURLD. Oh. It's there, but it's in black font. To see it, you have to look really hard. Also, MORE ANGRIER? HUH
2/5
Second Quest
Cool! Makes the game deeper!
4/5
Items
Suffers from the same problem as the characters.
3/5
Trivia
Interesting. Nice little section with content packed inside.
5/5
Gallery
Only one picture?
2/5
Overall Rating
Good, but the black text harms the games viewability. Some changes, and it could be a perfect game!
3.5/5=7/10=B
Ad blocker interference detected!
Wikia is a free-to-use site that makes money from advertising. We have a modified experience for viewers using ad blockers

Wikia is not accessible if you've made further modifications. Remove the custom ad blocker rule(s) and the page will load as expected.