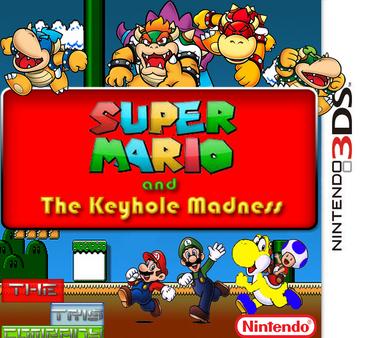 Another Mario game to review. Yay...... Now wait, Mario is a loved series and I myself am quite fond of it. But my fellow Fantendians(THASS A WURD) seem to represent it "unoriginally". I've done it too! Look at Wario Inc. THREE UNORIGINAL MARIO GAMES. I'm ashamed of myslef now. Anyways, my friend Tris(BETTER KNOWN AS LOCKY) made this little game here. Is it original and fun? Let's jump right in and find out.
Story
Meh. Unoriginal and littered with mistakes. Finded? Also, A LITTLE TOO COMMA HAPPY! Well, I do that too, so it'll slide.
2/5
Gameplay
Plagued with mistakes, but really interesting! I like things about it like connectivity and the DLC packs to add replay value. Good job!
3.5/5
Characters
GRR NOT COMPLETE. Ahh, why waste my time. Just look at Suproeira Maldio Wurld to see how I feel about that. Othe then that, decent section.
3/5
Power-Ups
My favorite section. Quite a variety of power-ups. I see some old favorites, as well as Fantendo power-ups to keep things fresh. Nice job! Also, no mistakes!
5/5
Enemies
Not a fan of red links, but it'll do. Also, the Goomba image feels a little out of place.
2/5
Guide
Lots of depth added with the addition of the guide. Interesting and original idea!
5/5
Gallery
One pic? Little depth added by this barren section. At least the art isn't bad.
3/5
Conclusion
Hard to say on this one. At it's core, the game deserves a 5/5. However,  mistakes, uncompleted things, and little depth make me give it a....
3/5
Read it.
Ad blocker interference detected!
Wikia is a free-to-use site that makes money from advertising. We have a modified experience for viewers using ad blockers

Wikia is not accessible if you've made further modifications. Remove the custom ad blocker rule(s) and the page will load as expected.