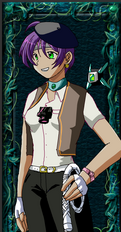 The Eight Medallions are the main item of
the game with the same name
, in this game, the Medallions are rare artefacts which the heroes of that game use, the medallions stay on the neck until the end of the game. The Medallions reveal the people's real personality, their secrets and their fears.
Medallions Holders
Ad blocker interference detected!
Wikia is a free-to-use site that makes money from advertising. We have a modified experience for viewers using ad blockers

Wikia is not accessible if you've made further modifications. Remove the custom ad blocker rule(s) and the page will load as expected.