The Cute Little Vitamin Drop
Developer(s)
SeventhHeaven
Publisher(s)
Nintendo
Platform(s)
7Si, 3DS
Release Date(s)
17th July 2017
Mode(s)
Adventure, Customize!
Age Rating(s)
PEGI 3
Genre(s)
Adventure
Series
The Cute Little Vitamin Drop
Media Included
7Si Cartridge

7Si Download

3DS Cartridge

3DS Download
The Cute Little Vitamin Drop (Japanese: ビタミンドロップ; Vitamin Drop) is a game made and developed by SeventhHeaven. The game will be released on the 7Si and the Nintendo 3DS on the 14th of July 2017. The game features amiibo support. The Cute Little Vitamin Drop was used in an MV called Vitamin Drop by a Japanese group called Perfume, well before the game was inaugurated. In Japan the music video was partially used as an advert for the game.
Plot
You take the role of one of two characters, Zindzi or Kash, which both portray two members of the band Perfume and you must save Natasha, who portrays A~Chan in Perfume, from the evil Dr. Beast, who has captured her. On the way you must find clues to figure out the place where Natasha is being kept. At the beginning you are given a secret item, a mysterious item called a Vitamin Drop. On the way to rescue Natasha, you find all kinds of different secrets.
Characters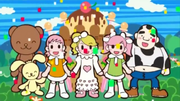 Character

Zindzi 

(Left)

Kash

(Right)

Natasha

(Blonde-haired)

Baby

Dr. Beast 

Riko (Unpictured)
Chiko (Left, bat)

Bombito

Suzuki
Sasuki