Ad blocker interference detected!
Wikia is a free-to-use site that makes money from advertising. We have a modified experience for viewers using ad blockers

Wikia is not accessible if you've made further modifications. Remove the custom ad blocker rule(s) and the page will load as expected.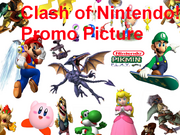 Clash Of Nintendo
Developer(s)
Nintendo and PikminPlay Games
Publisher(s)
Nintendo
Platform(s)
Wii, DS Tablet, 3DS
Genre(s)
Storyline Crossover
Release Date(s)
6-12-2011
Mode(s)
Story Mode, Nintendo Arcade Mode, Option Mode
Age Rating(s)
E-10+
DO NOT EDIT UNLESS YOU ARE PART OF PIKMINPLAY GAMES
The Clash of Nintendo! Is a big crossover of all the big series of Nintendo, such as Mario, Pikmin, Pokemon, Zelda, Metroid, Warioware, Yoshi, and R.O.B. There is a story mode which is a 3D world that consits of mega worlds of Nintendo. There are also 2D parts too it.
Characters (Playable)
Mario Series:
| | |
| --- | --- |
| Mario | |
| Luigi | |
| Peach | |
| Bowser | |
| Kooped | |
| T.T. | |

Pikmin Series
| | |
| --- | --- |
| Olimar | |
| Louie | |
| Bulborb | |

Zelda Series

WarioWare Series
| | |
| --- | --- |
| Wario | |
| Waluigi | |
| Mona | |
| Red & Ashley | |
| 9-Volt | |

DK Series
| | |
| --- | --- |
| Donkey Kong | |
| Diddy Kong | |
| Dixie Kong | |
| Candy Kong | |

R.O.B. Series
| | |
| --- | --- |
| R.O.B. | |

Kirby Series
| | |
| --- | --- |
| Kirby | |
| Meta Knight | |
| Waddle Dee | |
| King DeDeDe | |

Pokemon Series
| | |
| --- | --- |
| Pikachu | |
| Squirtle | |
| Pokemon Trainer | |
Metroid Series
| | |
| --- | --- |
| Samus Aran | |
| Ridely | |

Yoshi Series
| | |
| --- | --- |
| Yoshi | |
| Birdo | |
| Baby Mario | |
| Baby Luigi | |