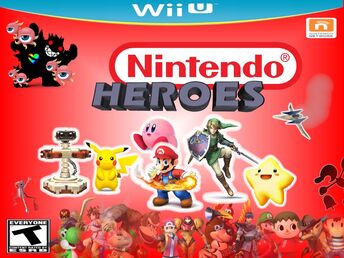 The Amazing Nintendo Heroes
is a game by L-PF exclusively for WiiU.
Controls
a - Neutral attack/ Combo
b - jump/double jump
x - trademark ability
y - (when power gauge is full) special power
L-trigger - Camera Left
R-trigger - Camera Right
Touch the Screen on your character - Pause
Gameplay
The same as New Super Mario 3D World
Story
The evil spirit Demonous has yoused the power of the "coward's heart" to escape from the underworld and smash reality! The smash of reality resulted in pulling all the nintendo worlds together, and possessing those who fell into it's core. Only seven were saved, Mario, Link, Kirby, Pikachu, Fox, R.O.B., and Starfy. The first four characters now have to release every possessed hero, and destroy their cowardly hearts.
Playable Characters
Helpers
Helpers are characters who use their unique abilities to assist the first four whenever they are called upon.
Starter Helpers
Unlockable Helpers
Bosses
The coward's heart reveals that without Yoshi's Spirit and Tenasity, He's just a primal dinosaur.

The coward's heart reveals that if DK used his power of being king of the jungle unpersistantly, he's just greedy tirant like King K. Rool

The coward's heart reveals that if Pit doesn't have faith in his godess, then he'd be finished, and a slave to the underworld.

The coward's heart reveals that if Samus doesn't keep her power in check, then she's liable to be overpowered by the space pirates.

The coward's heart reveals that if the trainer let all that power over pokemon go to his head, well.....

that's exactly what happens literally!

The coward's heart reveals that if Olimar was just another odd lifeform instead of a daring captain, then he'd be just another native alien.

The coward's heart reveals that if the villager was an abusive, and unrespectable citizen, then he'd go completely nuts...

The coward's heart reveals that if Dillon was not a daring experianced protector, he'd be a sad legend never told.

The coward's heart proves that Luigi would be nothing more than a jerk if he didn't have his loyalty.

The coward's heart reveals that if Ness was not a brave little scout, then he'd be dead on the spot.

The coward's heart reveals that if Banjo didn't keep his spirit, then he and Kazooie would just be yesterday's news.

The coward's heart reveals that if Mr. Game&Watch wasn't as suceptable to adaption, then he'd just be a hazard to everyone around him.

The coward's heart shows that if Falcon wasn't as free-spirited, then he'd be his own fire power.

The coward's heart reveals that if Marth wasn't a noble, then he'd be a confused kindred spirit.

The coward's heart reveals that.........

well, Chibi's adaptive power can be misused BIG time.

The evil spirit who activated the coward's heart is the exact example of the bigest coward in any Nintendo Universe
Worlds
TBA