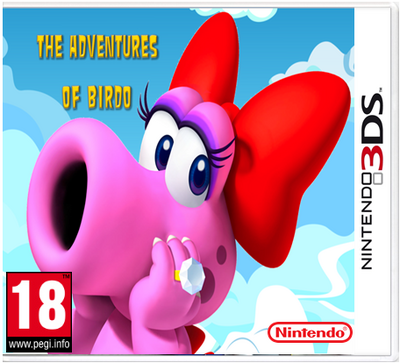 The Adventures of Birdo is a platform, hack and slash video game set in a more graphic and mature Nintendo universe. Despite it's rather childish demeanour, the game incorporates incredible amounts of gore and foul language, thus it's rating being PEGI-18 and 'M' for mature. The video game was published and developed by Peih-Geesus inc. as it was rejected by the original company. The video game is available on the 3DS.
Plot
The game begins with an argument breaking out between Yoshi and Birdo, which leads to Birdo kicking Yoshi out of their house in the Shade Trail (a new part of the kingdom, artificially created to house the Birdo species - Birdo herself is the leader) and outright refuses to attend the ceremony being held in Princess Peach's Castle to commemorate Mario's knighthood for his bravery and protection of royalty. Everything then takes a turn for the worst when Bowser attacks the castle and with the help of his minion army, kidnaps the entire population except for Birdo and her newly-appointed sidekicks Wise Wisterwood and Luma; together they will defeat Bowser and restore order and peace throughout the land, much to Birdo's digress.
Characters
Protagonist
Birdo's Profile
Gender
Biography
Voice Actor
♀
Birdo is a pink, anthropomorphic creature who wears a red hairbow, and has a round mouth that can fire eggs as projectiles, which in the games case is her choice of weapon. Birdo also wears a large diamond ring to represent her engagement to Yoshi. Although in previous instalments of Nintendo video games which have included Birdo, she has never had an actual speaking voice and instead just makes a specific noise. However, in her self-titled video game, Birdo is given an entire personality and distinct voice which accompanies her trademark cry. In The Adventures of Birdo, the titular protagonist is an extremely sassy woman, who can take care of herself without the need or help from a man as she is independent. She loathes Princess Peach for her weakness and constant naivety which ultimately gets her into trouble with the enemy. Birdo's sole aim within the game is to rescue Yoshi and then if she's feeling up to the task, she'll help to free the others that are captive.
Teyonah Parris
Deuteragonist
Wise Wisterwood's Profile
Gender
Biography
Voice Actor
♂
Wise Wisterwood is the largest and oldest tree in Shade Trail after he relocated from his original position in Flower Fields. During the attack committed by Bowser, Wise Wisterwood could only look on in horror as the citizens of not only Shade Trail, but the entire Kingdom were taken away. After finding out that Birdo is alive and well, they both embark on a journey to save the population from Bowser and his minion army. Wise Wisterwood is a foul-mouthed alcoholic and is normally in a state of psychosis over the course of the game - bewildered to his surroundings and often extremely violent... This allows Birdo to use him to her advantage as she provokes him constantly whilst in situations of peril. Birdo bribed Wise Wisterwood to join her on her quest with a lifetime supply of eggs (which for him would be a few days) and alcohol that he craves from dawn until dusk.
Edward Asner
Tritagonist
Luma's Profile
Gender
Biography
Voice Actor
♀
Luma is a small star who escaped Bowser's wrath, whilst her adoptive mother Rosalina was captured. Not knowing what to do, Luma hid for hours in a cove located just outside of Shade Trail before coming into contact with Birdo and Wise Wisterwood on their travels towards Bowser's Castle early on in the game. To begin with, Luma is extremely shy and talks in a very soft/feminine tone. As the game progresses, she becomes increasingly more comfortable with her new allies and thus shows her true colours more frequently. Luma is in fact a super model in the galaxy and is highly acclaimed by many, she speaks with a very strong valley girl accent and is somewhat conceited. Luma is envious of her mother's title as Queen of the Galaxy and wishes to overthrow her so that she can have the power Rosalina harnesses.
Maika Monroe
Episodes
The levels of the game are retitled to make the layout of the game resemble a television show. In the games case, the levels are now referred to as episodes. The game will have a total of 6 episodes.
---
One: Jaded
Birdo and Yoshi awaken side by side in their king-size bed on the morning of the knighthood ceremony. Whilst having breakfast, Birdo confronts Yoshi about finding a different egg in his man cave that wasn't initially produced by Birdo herself; realising that Yoshi has been cheating on her, she kicks him out of the house in Shade Trail and refuses to attend the ceremony, instead sobbing intensely into her pillow.
Yoshi gathers his things that Birdo has thrown from the upstairs window and then makes his way to Toad's house, where he dumps his belongings before making his way to the ceremony. The ceremony begins moments after he arrives and a few minutes in, Bowser's airship appears above Princess Peach's Castle. Defenseless, the town is invaded and eventually destroyed by Bowser's army of minions and the once huge population has transformed the place into a desolate ghost town - Bowser kidnapping everyone including Yoshi, Mario, Luigi, Peach, Daisy, Toad, Toadette and Rosalina.
Switching back to Birdo, she is still unaware of the problems happening outside for a few hours after the incident occurs. She then proceeds to investigate but finds that nobody is here - in her element, Birdo raids her favourite stores for the latest fashionable bows and jewellery before making her way to the bank in Toad Town where she breaks into the vault that stores the giant coins. After a few side missions take place, Birdo makes her way through Shade Trail where she encounters Wise Wisterwood, who informs Birdo of everyone's disappearances and why they need to make their way to Bowser's Castle in order to rescue them.
The unlikely duo begin their journey and encounter Luma as they make their way through Toad Town and towards Peach's Castle, who managed to escape Bowser's clutches during the raid.
Two: Firewater
The episode begins with the trio walking past a liquor store in Toad Town which acquires the immediate attention of Wise Wisterwood who is having alcohol withdrawal symptoms after his cached supply was destroyed during the raid earlier that day. After Birdo prepares a strong concoction of spirits, wines and beers, Wise Wisterwood temporarily passes out from the high intoxication.
After he wakes up, the sun has already set and a full moon rests in the sky, cushioned on blankets of cloud. Luma, Birdo and Wise Wisterwood rest for the night in the finest hotel Toad Town has to offer, before embarking on their short journey towards Princess Peach's Castle early the morning after. Whilst the trio explore the castle, they are attacked by a small rally of troops from Bowser's army after he finds out that not everyone was captured.
During the battle, Birdo encounters her ex-boyfriend Midbus who is exposed as Bowser's right hand man. Livid, Birdo releases a huge egg that kills off the majority of the enemies, which mainly consisted of Chain Chomps and Goombas, leaving only the Koopaling siblings and Midbus. After regaining enough strength to generate one more egg, she fires it directly at Midbus out of spite and jealousy - injuring him severely. Feeling threatened by the three, the Koopalings and Midbus retreat on the airship that they attacked in.
When the fight ends, Birdo, Wise Wisterwood and Luma find a map whilst searching in the castle's library, which leads them directly to Bowser. This means that they must travel from the Plains section of the kingdom and through the Desert landscape, the Forest landscape, the Tundra landscape before finally making their way to the Volcano/Canyon landscape where Bowser is located.
Three: Bourgeois
The episode begins with Birdo, Wise Wisterwood and Luma making their way through the Desert landscape where they are bombarded by another group of minions sent by Bowser. After that intense battle ends, the trio have somehow disbanded and gone their separate ways unintentionally. Birdo is shown first where she is ambushed by Boom Boom and Pom Pom who give her an ultimatum, whether to turn herself in or Yoshi and Princess Peach will die. Birdo then exclaims that she loathes the cunts and that she couldn't care less if they were killed or not - but knowing that the two of them are weak and wouldn't do such a thing, she attacks, defeats them and escapes.
Boom Boom and Pom Pom then locate Wise Wisterwood in the desert and give him an ultimatum on whether or not to turn himself in or Mario and Toad will die. Wise Wisterwood does a similar thing to Birdo but instead of actually blurting out a response, he collapses from the heat which then leads to Boom Boom and Pom Pom just abandoning him. They then instead move on to Luma who is given the ultimatum of turning herself in or allowing Rosalina to die. Luma then explains her plan to kill Rosalina and overthrow the galaxy so that she can rule because she believes she is the most beautiful creature in the universe and deserves more than just assistant title, which is essentially what she acts as towards her "adoptive mother". Boom Boom and Pom Pom then grant her wish and leave her alone, so that she can regroup with Birdo and Wise Wisterwood.
Waiting on the border between Desert and Forest, the trio join one another once again on their quest, with the aid of Birdo as their superintendent, before venturing off as a unit.
Four: Echelon
Birdo, Wise Wisterwood and Luma refrain from walking through the forest without weaponry as defense so instead opt to use the warp pipes located across the Forest landscape. Whilst in the warp pipes that travel towards the Tundra landscape, they are attacked by the Koopaling siblings, Midbus (who has now fully recovered), Boom Boom and Pom Pom as well as the new edition of Salvo the Slime. Birdo instantly kills Salvo the Slime by firing an egg at him, which ultimately causes him to flop and form a puddle, ending his iconic arc and character development.
Whilst the battle takes place, the warp pipe being used as the location is completely and utterly destroyed amidst the chaos and as a result collapses on one side which results in the death of Larry Koopa, Iggy Koopa and Morton Koopa Jr. - this then acts as a distraction for when Wendy Koopa, Roy Koopa, Lemmy Koopa, Ludwig Koopa, Boom Boom, Pom Pom and Midbus retreat.
Birdo blames Luma for allowing their escape to take place as her one true goal was to savagely murder Midbus for dumping her over the phone and as a result they both have a scrap, when Birdo wins, Luma apologises and then the group talk strategy, including battle tactics and formation. Wise Wisterwood then calls for the trio to continue on in their travels before ending the episode when they reach the Tundra landscape.
Five: Transmuted
As soon as they arrive at the border, the trio are assaulted by an intense blizzard, which itself acts as the perfect camouflage for a small tribe of misfits that include; Petey Piranha, King Boo, Shadow Queen, Princess Shroob and Dry Bones. Who, with this advantage, capture and drug Birdo, Wise Wisterwood and Luma, before taking them back to their camp where they are held as prisoners. As the drugs take full effect, Birdo is rendered useless as she is transformed into a human due to the implications that come with taking the drug.
The remaining Koopalings, Boom Boom, Pom Pom and Midbus visit the small tribe and reward the group with a bounty that was previously promised for them if the three were successfully captured alive and well. Meanwhile, inside the tent where the three are hidden, Birdo and Luma are in a heated exchange of shade, blaming one another for the wrong-doings that both of them are equally responsible for - like their capture. However, with the use of opposable thumbs, Birdo is able to unlock the relatively weak puzzle that holds cage together. She then proceeds to solve the two other puzzles that keep Wise Wisterwood and Luma firmly in their individual aviary and confine.
Once Birdo releases the other two, they proceed to leave the tent and quietly escape by going unnoticed, but are caught off-guard when they encounter Midbus and his crew. After another graphic and gore-filled skirmish. The unstoppable trio kill all of the members of the tribe (Petey Piranha, King Boo, Shadow Queen, Princess Shroob and Dry Bones) alongside Boom Boom, Pom Pom and Midbus who is fiercely murdered by Birdo who fires an egg down his throat whilst they made-out as an act of retaliation.
With the storms getting severely worse as the day progresses, Birdo, Wise Wisterwood and Luma all take a break by waiting out the storm in the largest tent within the camp. The next morning they set out on their travels, fully equipped with knives and cannons with a replenished stock of edible and drinkable resources.
Six: Vitriol
Birdo, Wise Wisterwood and Luma finally arrive in the Volcano and Canyon landscape of the kingdom, where they come into contact with Bowser's Castle. In the final boss battle, Bowser is enraged that these useless side characters have managed to kill dozens of centric antagonists that have appeared frequently in the franchise. Bowser grows in size which makes him more than double the height of Wise Wisterwood.
Before Bowser actually attempts to capture the trio, he sends out his remaining army, that only includes Wendy Koopa, Roy Koopa, Lemmy Koopa and Ludwig Koopa but after Birdo and Wise Wisterwood are tied down and thrown onto the airship that has a destination for the dungeons, when Luma was being besieged, she fired a large beam of light that eradicated all of those who surrounded her.
After witnessing the murders of his children, the true final boss battle takes place between Birdo and Bowser - Wise Wisterwood and Luma are given the objective of rescuing the population of Mushroom Kingdom. When they defeat him and everyone is set free, the trio are hailed heroes. A turn of events takes place when Luma reveals her true intention and executes Rosalina before leaving to the galaxy where she takes over the throne as ruler. When Birdo and Yoshi meet for the first time since their argument, Birdo punches Yoshi in the throat and shoves her engagement ring up his anal sphincter before abandoning him to mourn the death of Midbus properly, her one true love. The game then ends with an after-credit scene which depicts Wise Wisterwood dying of old age.
Gallery
Soundtrack
Trivia