The Adventures Of Waddle Dee is a RPG for the Nintendo 3DS that will be released in 2017.
The Adventures Of Waddle Dee
Developer(s)
HAL Laboratory
Publisher(s)
Nintendo
Platform(s)
Nintendo 3DS
Genre(s)
RPG
Cost
30 Dollars OR 3392.96 Yen OR 0.07 Bitcoins OR 133,517.29 Dogecoins.
Max. amount of players
1 (without streetpass and wifi) 4 (with streetpass) 50?!?!? (with wifi)
Plot
One day on pop star waddle dee goes for a walk with kirby. Suddenly, Kirby is taken away by a force of evil known as The Blueflame Empire.
Characters
TBA
Items
| Name | Photo | Ability | First Introduced | Price | Type |
| --- | --- | --- | --- | --- | --- |
| Spear | | This item increases ATK but reduces SPD. It does 50 DMG. | Green Greens | 50 waddle tokens, or 1 playcoin. | Weapon |
| Parasol | | This item increases DEF, but reduces SPD. It does 25 DMG. | Candy Mountain | 100 waddle tokens or 2 playcoins. | Weapon |
Cancelation
On September 28, 2016, the offical Nintendo Of America twitter account tweeted a post revealing a new Kirby game, and the cancelation of The Adventures Of Waddle Dee. Fans speculate this change may only take place in the USA because other offical nintendo accounts haven't tweeted this yet.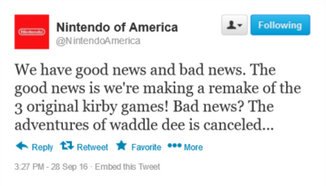 Ad blocker interference detected!
Wikia is a free-to-use site that makes money from advertising. We have a modified experience for viewers using ad blockers

Wikia is not accessible if you've made further modifications. Remove the custom ad blocker rule(s) and the page will load as expected.