Editor's Note
Welcome to the first issue of the official 'Shroomtech Games magazine, "The 'Shroom"! The 'Shroom contains all sorts of information including upcoming games, character bios, and more. I'm working really hard to bring this to you, so enjoy!
-Chaos is only a state of mind... Stare into the eye of eternity...

Everyone Welcome Our New Mascot!
I thought it was about time that 'Shroomtech Games got it's own mascot. I didn't want to just use an already existing Nintendo character like some of my fellow Fantendo game developers, so I spent a long time coming up with an entirely new character to represent our company. I needed to come up with a character that would show off the exiting flavor of our games.
After consulting with my friend and business partner,
Jman4421
we agreed on a mascot. Now, ladies and gentlemen, boys and girls, we present-
Shroomy
!- I'll be back!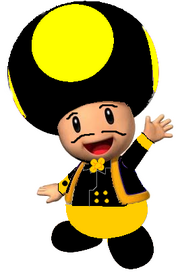 Ad blocker interference detected!
Wikia is a free-to-use site that makes money from advertising. We have a modified experience for viewers using ad blockers

Wikia is not accessible if you've made further modifications. Remove the custom ad blocker rule(s) and the page will load as expected.