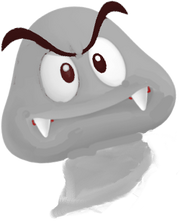 Terekuribō (also known as Goomboos or Boo Goombas) are ghostly Goombas that work for Wario during the events of Super Mario Land 2: Six Golden Coins.
Appearances
Terekuribō appear in Super Mario World: Wii as enemies in ghost houses.
Terekuribō, under the name of Goomboo, appear once again in Goomsday Wii. They are the spirits of dead Goombas brought back not by Goomboss, but by King Boo (under the control of the Scepter of Superiority).
Gallery
Ad blocker interference detected!
Wikia is a free-to-use site that makes money from advertising. We have a modified experience for viewers using ad blockers

Wikia is not accessible if you've made further modifications. Remove the custom ad blocker rule(s) and the page will load as expected.