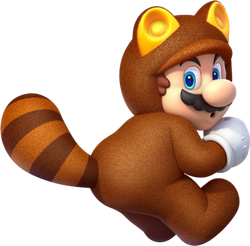 Tanooki Mario is one of Mario's Power-Ups that is obtainable in Super Mario Bros. 3 after Mario grabs the Tanooki Suit. Luigi instead wears a Kitsune Suit, though has the same abilities as Tanooki Mario.
Even foes (Goomba, Thwomp, etc) can be in a Tanooki form.
Ability
This unique suit allows Mario to fly, falling down slowly and the ability to whack things, all three with his tail, just like Raccoon Mario with the Super Leaf. The Tanooki Suit also adds the ability to turn into a statue and escape enemies for a limit of time before turning back into Tanooki Mario. When turning into a Statue in the air, it falls down and does similar like a Thwomp. In Super Mario 3D Land, Luigi's tanooki form is actually a kitsune version. His suit is honey-colored and resembles to a fox rather than a raccoon.

Appearances
Sports Games
Tanooki appears as a costume for Mario. When selecting the character hold down the left control stick to the left to turn Mario into Tanooki Mario. However, Mario does not gain the ability to fly/glide. Kitsune Luigi also appears as a costume for Luigi. Tanooki Bowser appears as a costume for Bowser
Gallery
Artwork
Tanooki Suit
Kitsune Suit
Sprites