Ad blocker interference detected!
Wikia is a free-to-use site that makes money from advertising. We have a modified experience for viewers using ad blockers

Wikia is not accessible if you've made further modifications. Remove the custom ad blocker rule(s) and the page will load as expected.
Tam-Tom and the Great Crystal
Developer(s)
Publisher(s)
Platform(s)
Visus Sphere
Genre(s)
3D Platformer
Mode(s)
Single-Player
Tam-Tom and the Great Crystal
is an upcoming 3D Platformer for the Visus Sphere, it is a new game from Darklight Studios in regards to IPs. It takes inspiration from previous 3D Platformers like Mario, Donkey Kong & Banjo-Kazooie although has a similar feel in respect to atmosphere as the Kirby series.
Synopsis
On a distant planet described as being "at least half the galaxy" away from Earth, known as Obrusi live a small Crystappo called Tam-Tom, Tam-Tom's adventerous and somewhat mischievious nature leads him to explore the area around his home where he discovers that mysterious Insectoid Aliens have been infiltrating his homeworld and are infecting the native species. Now it is up to Tam-Tom and his buddy, Deegee to find the cause of the invasion and stop it.
Gameplay
The gameplay consists of 3D Action and Platforming. There are low amounts of enemies in the game due to its easy difficulty. In the game the player is able to walk, run, sprint, jump and roll around as Tam-Tom with Deegee running along side you (or on top of you if you are rolling). In addition Tam-Tom can charge up his crystal to fire a blast of energy at a target, the energy blasts although chaotic in appearance, hit the target the player Auto-Locks. In addition by charging the attack, although stopping Tam-Tom is his movement, a charged attack can bounce from one enemy to the next up to 5 times. There is a catch however, Tam-Tom can only use his Energy Attacks when he has enough stored Energy. Tam-Tom regains energy in heavy sunlight (during the middle of the day) and when near Energy Crystals.
Locations
Known as the World of the Great Crystal, the land Tam-Tom and everyone he knows inhabits is a large bay area surrounded by mountainous cliff faces and many Woods, Fields and Roughlands. Throughout the game the player traverses arlong the map exploring the various areas of the game to reach the great Crystal. Locations are broken up into Areas with the player able to explore each Area and requiring to accomplish certain requirements before fighting the boss of that Area to progress onwards. These areas are not fully linear in completion as many branch off from one another although ultimately the player will always start off at White Sand Beach (South-East Corner) and finish at the Great Crystal Meadow (Central North). The Specific Areas are listed below.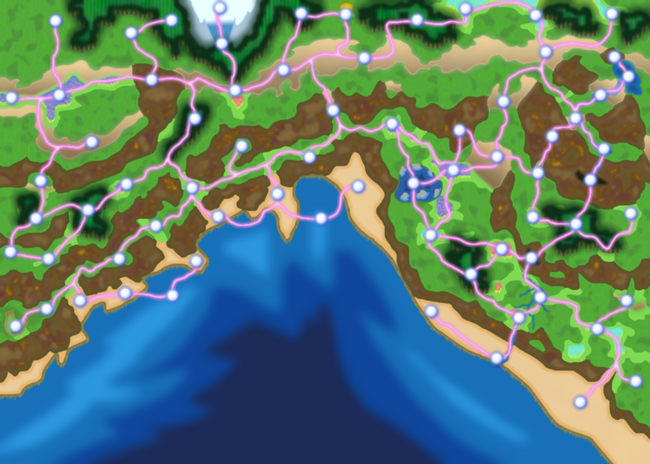 | Location | Boss | Globi Pods | Inactive Crystals | Medallions of Iso |
| --- | --- | --- | --- | --- |
| White Sand Beach | None | 2 | 0 | 0 |
| Grace Glade | Sprout Fae | 3 | 0 | 0 |
| Blue Petal Hill | None | 3 | 0 | 0 |
| Twin Bellow Ravine | Bivoworm | 2 | 1 | 0 |
| Cracked Rivers | None | 4 | 2 | 1 |
| Rose Fields | Rose Fae | 3 | 0 | 0 |
| Beach Pools | None | 4 | 1 | 0 |
| Secretive Cove | None | 3 | 2 | 1 |
| Night's Forest | None | 5 | 0 | 2 |
| Flood Den | None | 4 | 3 | 1 |
| Snapdragon Heights | Snapdragon Fae | 3 | 0 | 0 |
| Marshy Flowerbed | None | 2 | 1 | 1 |
| Lake of Life | Soul Collector | 5 | 2 | 0 |
| Deathbell Valleys | Deathbell Fae | 3 | 0 | 0 |
| Gleaming Cliffs | None | 8 | 5 | 0 |
| Barren Hills | None | 6 | 2 | 4 |
| Field Cove | None | 3 | 1 | 1 |
| Tulip Maze | Tulip Fae | 3 | 0 | 0 |
| | | | | |
| | | | | |
| | | | | |
| | | | | |
| | | | | |
| | | | | |
| | | | | |
| | | | | |
| | | | | |
| | | | | |
| | | | | |
| | | | | |
| | | | | |
| | | | | |
| | | | | |
| | | | | |
| | | | | |
| | | | | |
| | | | | |
| | | | | |
| | | | | |
| | | | | |
| | | | | |
| | | | | |
| | | | | |
| | | | | |
| | | | | |
| | | | | |
| | | | | |
| | | | | |
| | | | | |
| | | | | |
| | | | | |
| | | | | |
| | | | | |
| | | | | |
| | | | | |
| | | | | |
| | | | | |
| | | | | |
| | | | | |
| | | | | |
| | | | | |
| | | | | |
| | | | | |
| | | | | |
| | | | | |
| | | | | |
| | | | | |
| | | | | |
| | | | | |
| | | | | |
| Great Crystal Meadow | Globi Queen | 100 | 16 | 6 |
Characters
| Character | Description |
| --- | --- |
| Tam-Tom | Tam-Tom is a young Crystappo, a four-legged mammalian creature with mysterious crystals on its back, capable of releasing blasts of energy from them. Tam-Tom is a bit of a mischievious Crystappo, often going against his parents' wishes to explore the surrounding area where danger may be found. He is somewhat overconfident in his abilities, sometimes unaware of his limitations. |
| Deegee | Deegee is Tam-Tom's buddy and childhood friend, from the two-legged species known as the Jupee species, he is able to run surprisingly fast. He is definitely more cautious than his friend and seems to be a bit more wise than Tam-Tom whom he often criticizes due to his lack of forward thinking. Deegee deeply cares about Tam-Tom and due to their species usually being able to coexist quite easily the two are often able to meet up. |
Enemies
Enemies

Globi Worm

Bringull

Twootsie

Red Mendoa

Blue Mendoa

Kimbi

Doggadiga

Zendi

Dorma

Tilio

Sambara

Gossick Egg

Gossick Drone

Gossick Mother

Halafala

Goborock

Dambi
Faalama

Olbiol

Techgrabble
Buzzoball
Trivia
This is the first Original IP by Darklight Studios to feature a Non-Anthropomorphic or Human Main Character who can talk
This game's name gets its structure from movies like the Harry Potter series and games like The legend of Zelda and Professor Layton
Gallery