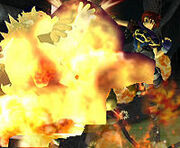 When Roy gets a smash ball and activates his Final Smash.
He says "It ends here" and leaps into the air and targets the nearest player and uses Blazer, when it connects a explodion happens, and Roy does multipule Double-Edge Dances resulting in a OHKO.
The strike itself does 30% and the explosion does 40%.
Anyone near the explosion takes 10%.