Swampy-Branch Jungle is the third world in
Super Mario and the 8 Elemental Crystals
. It is unlocked by completing
Desert Dunes
. It features many trees, shell huts, and poisonous swamps. The boss of this world is Morton KoopaJr., at Morton's Vine-Swing Castle. Petey Piranha guards Beanstalk Tower.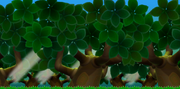 Piranha Plant River
A freshwater river where many shell huts, Stalking Piranha Plants and River Piranha Plants lie. Vines can be useful here.
Enemies
Koopa Troopa (Green & Red)
Stalking Piranha Plant
River Piranha Plant
Bramball's Cavern
An cave area with gushing poison waterfalls and plenty of Bramballs. The Bramball Flower is first seen here. It is needed for the high cliffs of this hazardous level.
Enemies
Koopa Troopa (Green)
Spike Top
Bramball
Wiggler Woods
An area with many Wigglers and dense trees. Giant Wigglers take you over certain parts of the level. At the end, you can see the tower with Petey Piranha standing on top.
Enemies
Koopa Troopa (Green & Red)
River Piranha Plant
Wiggler
Mega Wiggler
Beanstalk Tower
This tower contains many blocks with beanstalks. Bungee Piranhas are hangning everywhere. They continously lunge at you as you climb the beanstalks. The boss is Petey Piranha, who gains powers from the Green Crystal of Plants. You hit him similarly to New Super Mario Bros. Wait till he falls over trying to slam you. then hit his belly! 
Enemies
Bone Goomba
Bungee Piranha
Tall Trunk Trees
This level takes place in the canopies of trees. Many Scuttlebugs and their webs make their debut here. You cross from branch to branch with help from the webs and vines. In the later areas, Fuzzies run on tracks around the tress.
Enemies
Goomba
Paratroopa (Green & Red)
Scuttlebug
Fuzzy
Scuttlebug Raft Ride
A level through the swamp on a weighted raft. 5 or more enemies on the raft will bring it to a halt. Scuttlebugs drop in from webs and walk around, similar to Monty Moles.
Enemies
Goomba
Micro-Goomba
Koopa Troopa (Green)
Piranha Plant
Scuttlebug
Mind-Boggling Pathways
The second ghost house of the game. It is a maze of confusion with many Boos. Plants grew through to walls causing vines to appear.
Enemies
Boo
Big Boo
Circling Boo Buddies
Jumbo Rays in the Clouds
A sky level with many Jumbo Rays. Paratroopas fly all around the place. Bungee Piranhas extend upwards trying to bite you. At the end, you can see Morton's airship circling his castle.
Enemies
Goomba
Paratroopa (Green & Red)
Bungee Piranha
Morton's Vine-Swing Castle
This castle has many dry enemies and swamp pools. You must use the Bramball Flower to scale certain areas. The boss is Morton Koopa Jr. who drops down from his airship. He places the Green Crystal of Plants on the tip of his magic wand. He now has the power to make vines or Bungee Piranhas grow from the ceiling. When defeated, Morton retreats to his airship, and flies to Bowser's Castle, unlocking World 4: Shoreline Beach.
Enemies
Dry Bones
Bone Goomba
Bone Piranha Plant
Bungee Piranha
Ad blocker interference detected!
Wikia is a free-to-use site that makes money from advertising. We have a modified experience for viewers using ad blockers

Wikia is not accessible if you've made further modifications. Remove the custom ad blocker rule(s) and the page will load as expected.