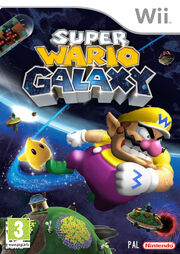 Story
Wario was sitting in a chair, in front of his house, picking his nose, when a large ship flew by. The ship opened a portal into space, but before it went, it dropped a jewel. Wario picked it up. He then thought that if he could get that ship, he could be rich! Wario built a spaceship and went after the ship.
Wario tracked down a lot of gems, but they guarded by the dreaded Monster Mole! Wario fought the mole by pounding his belly, and collected a Grand Jewel! He took it back and realized it was worth much more than a regular Jewel. He then set out to collect all of the Grand Jewels!
Galaxies
World 1
Sapphire Station Galaxy
Bandinero Blast Galaxy
Space Jungle Galaxy
Bitter Sweet Galaxy
Cosmic Treehouse Galaxy
Monster Mole's Jewel Extractor (Boss)
World 2
Monster Mash Galaxy
Flying High Galaxy
Nintendo Madness Galaxy
Sunshine Cove Galaxy
Dark House Galaxy
Octofist's Crystal Generator
World 3
World 4
World 5
World 6
World 7
World 8
Characters
Enemies
Coming Soon
Ad blocker interference detected!
Wikia is a free-to-use site that makes money from advertising. We have a modified experience for viewers using ad blockers

Wikia is not accessible if you've made further modifications. Remove the custom ad blocker rule(s) and the page will load as expected.