Super Toad Adventures is a 3D platformer coming to the 3DS in 2015.. This is Nine Lives first production. It was announced on August 8th 2013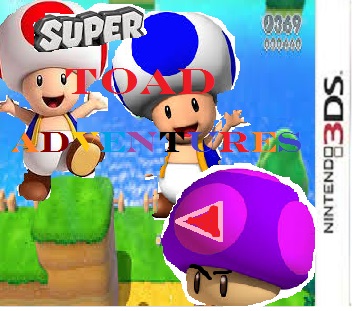 Plot
Playable Characters
Controls
Items
Updates
August 8th 2013- First Trailer
September 3rd 2013- Cancelled 
November 23rd 2014- Reannounced, with the name being changed to Super Toad Adventures. It will show up in the next Nintendo Direct.
November 24th 2014- Nintendo released the beta box art, along with more information:
-The game was started by Nine Lives, but is going to be finished by Nintendo.
-The game has been altered heavily, as the original idea 'Was too similar to other 3D Platformers'.
Ad blocker interference detected!
Wikia is a free-to-use site that makes money from advertising. We have a modified experience for viewers using ad blockers

Wikia is not accessible if you've made further modifications. Remove the custom ad blocker rule(s) and the page will load as expected.