Developer(s)
L-PF Studios
Publisher(s)
Fantendo
Release Date(s)
10/12/2013
Genre(s)
TV Shows
Media Included
Television
Transcript
Gim:
Cheer up, Tunnel. At least the screen still works.
Tunnel:
Well theres the silver lining for ya. Gim, would you please continue with the Alpha Team's Story for our guests.
Mewtwo Y:
Congratulations, Smash Brothers. You have succeeded in your challenge. As an amend to my earlier behavior, My Sandslashes and I will accompany you on your quest.
Mario:
I gotta say, It'll be nice working with you again Mewtwo.
Sandslash:
Sandslash. Sandsand Slasha.
Pikachu:
Pikachu. Pikapika Pika.
Marth:
Alright now what did HE say?
Ice Climbers:
Well, Pikachu said that he agrees, but We don't speak Sandslash.
Mewtwo Y:
Sandslash just said that it would probably be best if we were told what your quest IS.
Samus:
Of Coarse! How could we have forgotten!
Wario:
Hehehe! Astalavista Suckuhs!

. *Smashes Ground, and tunnels everyone in*
Link:
Ow. Everybody okay?
Samus:
We're all trained to handle little falls, Link. The question that should've been asked is; How did the ground give out?
Kirby:
It was him!

*Points to Wario*
Wario:
Ouch. I guess I didn't realize that I would fall in too.
Mewtwo Y:
Sandslashes, Seize him!
Wario:
Uh-Oh. Looks like I'm busted. I'd better get rid of this.

*Smashes Comunicator*
Mario:
I guess We'd better try to find another way out of here.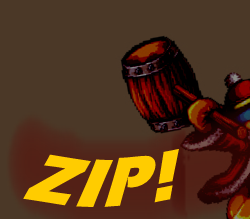 Marth:
Let's Follow It! Maybe it knows the way out of here!
Tunnel:
Stop the screen! Stop the Screen!
Tunnel:
I...uhhh. We-better....
Tunnel:
We'd better.......TAKE A LOOK AT WHAT THE VILLAINS WERE DOING!
Ganondorf:
Ugh. That Idiot Wario broke his communicator!
King K. Rool:
What does that mean,Oh Wise and Powerful Master?
Wolf:
It means that that Fat Clutz probably dropped it or something.
Ganondorf:
Wrong, it means that Wario got caught. A coward like him will probably spill everything!
Metal Sonic:
The wisest decision to make, Lord Ganon would be to send another villain to spy on the Alpha Team, and send yet another villain to retrieve Wario.
Ganondorf:
Fine fine, Metal Sonic go and spy on the heroes. I'll find somebody else to get Wario back.
Wolf:
This is boring. When will I get out of here and start doing stuff!?!
Ganondorf:
Soon enough. Soon Enough.

Mwwwuuhahahahahahahahahaha......

End Episode