Ad blocker interference detected!
Wikia is a free-to-use site that makes money from advertising. We have a modified experience for viewers using ad blockers

Wikia is not accessible if you've made further modifications. Remove the custom ad blocker rule(s) and the page will load as expected.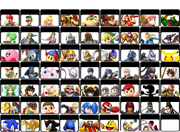 Super Smash Bros X ( also referred SSBX ) is the latest instalment in the Super Smash Bros series. It comes after SSB4, and is on Wii U and "NEW" Nintendo 3DS. It features many of the features and game modes from the past instalments such as Target smash, home run contest, online mode and more!
---
No characters in the game will be full on clones. Some characters have similar moves (Protoman having the Proto-buster, while Megaman has the Mega-buster for example) but no character is similar enough to another to be considered a clone, or by extension even a semi-clone. I would like to thank a great user on here for helping me make this. You probably all know him. I must give all my thanks to White the popopo for helping me with my template. I couldn't  have made this without him, so make sure to check him out, if you have been living under a rock and somehow don't know who he is!
Characters
Image
Name
Special Moves

Mario
Standard Special Move: Fireball
Side Special Move: Cape
Up Special Move: Coin jump punch
Down Special Move: F.L.U.D.D
Final Smash: Mario finale

Luigi
Standard Special Move: Thunderbrand
Side Special Move: Green missle
Up Special Move: Super jump punch
Down Special Move: Luigi cyclone
Final Smash: Poltergust 5000

Peach
Standard Special Move: Toad
Side Special Move: Peach bomber
Up Special Move: Parasol
Down Special Move: Vegetable
Final Smash: Mega parasol

Bowser
Standard Special Move: Fire breath
Side Special Move: Flying slam
Up Special Move: Whirling forretress
Down Special Move: Bowser bomb
Final Smash: Giga Bowser

Bowser Jr.
Standard Special Move: Clown cannon
Side Special Move: Clown kart dash
Up Special Move: Abandon ship!
Down Special Move: Mechakoopa
Final Smash: Shadow Mario

Donkey Kong
Standard Special Move: Giant punch
Side Special Move: Headbutt
Up Special Move: Spinning kong
Down Special Move: Hand slap
Final Smash: Rambi ride

Diddy Kong
Standard Special Move: Peanut popgun
Side Special Move: Monkey flip
Up Special Move: Rocket barrels
Down Special Move: Roll
Final Smash: Rocket barrel barrage

Dixie Kong
Standard Special Move:
Side Special Move:
Up Special Move: Hair copter
Down Special Move:
Final Smash: Barrel blast

King K. Rool
Standard Special Move:
Side Special Move:
Up Special Move:
Down Special Move:
Final Smash: Kannon ball barrage

Yoshi
Standard Special Move: Egg lay
Side Special Move: Egg roll
Up Special Move: Egg toss
Down Special Move: Yoshi bomb
Final Smash: Super dragon

Link
Standard Special Move: Fairy bow
Side Special Move: Gale boomerang
Up Special Move: Heros spin
Down Special Move: Bomb
Final Smash: Triforce slash

Zelda
Standard Special Move: Nayru's love
Side Special Move: Din's fire
Up Special Move: Farore's wind
Down Special Move: Phantom slash
Final Smash: Seven sages

Sheik
Standard Special Move: Needle storm
Side Special Move: Burst grenade
Up Special Move: Vanish
Down Special Move: Bouncing fish
Final Smash: Light arrow

Ganondorf
Standard Special Move: Dead mans volley
Side Special Move: Flame choke
Up Special Move: Wizard warp
Down Special Move: Warlock slash
Final Smash: Beast Gannon

Toon Link
Standard Special Move: Bow
Side Special Move: Pegasus boots
Up Special Move: Heros spin
Down Special Move: Bomb
Final Smash: Wind waker

Samus
Standard Special Move: Charge shot
Side Special Move: Missle
Up Special Move: Screw attack
Down Special Move: Bomb
Final Smash: Zero laser

Zero Suit Samus
Standard Special Move: Paralyzer
Side Special Move: Plasma whip
Up Special Move: Boost kick
Down Special Move: Flip jump
Final Smash: Gunship

Ridley
Standard Special Move: Fire balls
Side Special Move:
Up Special Move:
Down Special Move:
Final Smash: Omega Ridley

Kirby
Standard Special Move: Inhale
Side Special Move: Hammer flip
Up Special Move: Final cutter
Down Special Move: Stone
Final Smash: Ultra sword

Meta Knight
Standard Special Move: Mach tornado
Side Special Move: Drill rush
Up Special Move: Shuttle loop
Down Special Move: Dimensional cape
Final Smash: Galaxia darkness

Waddle Dee
Standard Special Move: Spear throw
Side Special Move: Spear barrage
Up Special Move: Spear copter
Down Special Move: Megaton punch
Final Smash: Crash

King Dedede
Standard Special Move: Inhale
Side Special Move: Gordo throw
Up Special Move: Dedede jump
Down Special Move: Jet hammer
Final Smash: Masked Dedede

Fox
Standard Special Move: Blaster
Side Special Move: Fox flash
Up Special Move: Fire fox
Down Special Move: Reflector
Final Smash: Landmaster

Falco
Standard Special Move: Blaster
Side Special Move: Falco phantasm
Up Special Move: Fire bird
Down Special Move: Reflector
Final Smash: Arwing

Krystal
Standard Special Move:
Side Special Move:
Up Special Move:
Down Special Move:
Final Smash: Krazoa spirits

Wolf
Standard Special Move: Blaster
Side Special Move: Wolf pounce
Up Special Move: Dark wolf
Down Special Move: Reflect bomb
Final Smash: Wolfen

Pikachu
Standard Special Move: Thunder shock
Side Special Move: Skull bash
Up Special Move: Quick attack
Down Special Move: Thunder
Final Smash: Volt tackle

Victini

Standard Special Move: Searing shot

Side Special Move: Fusion Flare

Up Special Move: Fusion Bolt
Down Special Move: Inferno
Final Smash: V-Create

Lucario
Standard Special Move: Aura sphere
Side Special Move: Force palm
Up Special Move: Extreme speed
Down Special Move: Double team
Final Smash: Mega Lucario

Jigglypuff
Standard Special Move: Rollout
Side Special Move: 
Up Special Move: Sing
Down Special Move: Rest
Final Smash: Moonblast

Mewtwo
Standard Special Move: Shadow ball
Side Special Move: Confusion
Up Special Move: Teleport
Down Special Move: Barrier
Final Smash: Mega Mewtwo Y

Marth
Standard Special Move: Shield breaker
Side Special Move: Dancing blade
Up Special Move: Dolphin slash
Down Special Move: Counter
Final Smash: Critical hit

Lucina
Standard Special Move: Ignis
Side Special Move: Luna
Up Special Move: Spining slash
Down Special Move: Counter
Final Smash: Chrom

Robin
Standard Special Move: Thunder
Side Special Move: Arcfire
Up Special Move: Elewind
Down Special Move: Nosferatu
Final Smash: Elemental magic/ Expiration

Tharja
Standard Special Move:
Side Special Move:
Up Special Move:
Down Special Move:
Final Smash: Dark storm

Pit
Standard Special Move: Palutena bow
Side Special Move: Upperdash arm
Up Special Move: Power of flight
Down Special Move: Guaridan orbitars
Final Smash: Three sacred treasures

Palutena
Standard Special Move: Heavenly light
Side Special Move: Reflect barrier
Up Special Move: Jump glide
Down Special Move: Counter
Final Smash: Black hole/Surge beams

Dark Pit
Standard Special Move: Dark Pit staff
Side Special Move: Violet palm
Up Special Move: Pandora's flight
Down Special Move: Ogre club
Final Smash: Lightning chariot

Olimar
Standard Special Move: Pikmin pluck
Side Special Move: Pikmin toss
Up Special Move: Winged Pikmin
Down Special Move: Whistle
Final Smash: End of day

Wario
Standard Special Move: Chomp
Side Special Move: Wario bike
Up Special Move: Wario corkscrew
Down Special Move: Wario waft
Final Smash: Wario man

Ashley
Standard Special Move:
Side Special Move:
Up Special Move:
Down Special Move:
Final Smash: Dark form

Ice Climbers
Standard Special Move:
Side Special Move:
Up Special Move:
Down Special Move:
Final Smash: Glacier

Ness
Standard Special Move: PK flash
Side Special Move: PK fire
Up Special Move: PK thunder
Down Special Move: PSI magnet
Final Smash: PK starstorm

Mr. Game & Watch
Standard Special Move: Chef
Side Special Move: Judge
Up Special Move: Fire!
Down Special Move: Oil panic
Final Smash: Octopus

Captain Falcon
Standard Special Move: Falcon punch
Side Special Move: Raptor boost
Up Special Move: Falcon dive
Down Special Move: Falcon kick
Final Smash: Blue falcon punch

Isaac
Standard Special Move:
Side Special Move:
Up Special Move:
Down Special Move:
Final Smash: Judgement

Dillon
'Standard Special Move: Dynamite
Side Special Move: Claw attack 
Up Special Move: Grind jump
Down Special Move: 'Spin charge
Final Smash: Arma-mode

Villager
Standard Special Move: Pocket
Side Special Move: Lloid rocket
Up Special Move: Balloon trip
Down Special Move: Pocket
Final Smash: Dream home

Shulk
Standard Special Move: Monado arts
Side Special Move: Back slash
Up Special Move: Air slash
Down Special Move: Vison
Final Smash: Chain attack

Mega Man
Standard Special Move: Metal blade
Side Special Move: Crash bomber
Up Special Move: Rush coil
Down Special Move: Leaf shield
Final Smash: Megaman ledgends

Proto Man
Standard Special Move:
Side Special Move:
Up Special Move:
Down Special Move:
Final Smash: Reactor blast

Standard Special Move:
Side Special Move:
Up Special Move:
Down Special Move:
Final Smash: Holy whip

Snake
Standard Special Move:
Side Special Move:
Up Special Move:
Down Special Move:
Final Smash: Grenade launcher

Bayonetta
Standard Special Move:
Side Special Move:
Up Special Move:
Down Special Move:
Final Smash: Wicked weave

Sonic
Standard Special Move: Homing attack
Side Special Move: Sonic boom
Up Special Move: Spring jump
Down Special Move: Spin dash
Final Smash: Super Sonic

Tails
Standard Special Move:
Side Special Move: Enerbeam
Up Special Move:
Down Special Move:
Final Smash: Tornado mech

Shadow
Standard Special Move: Chaos spear
Side Special Move: Chaos attack
Up Special Move: Chaos controll
Down Special Move: Chaos blast
Final Smash: Super Shadow

Metal Sonic
Standard Special Move:
Side Special Move:
Up Special Move: Maximum overdrive attack
Down Special Move:
Final Smash: Neo Metal Sonic

Dr. Eggman
Standard Special Move:
Side Special Move:
Up Special Move:
Down Special Move:
Final Smash: Death egg robot

Pac-Man
Standard Special Move: Bonus fruit
Side Special Move: 
Up Special Move:
Down Special Move: 
Final Smash: Super PACMAN

Saki Amamiya
Standard Special Move:
Side Special Move:
Up Special Move:
Down Special Move:
Final Smash: Ruffian form

Ryu
Standard Special Move:
Side Special Move:
Up Special Move:
Down Special Move:
Final Smash: Hyper combo