Squper Smash Bros Squabble
is the 6th
smash bros
game in the series, being a direct sequal to Super Smash Bros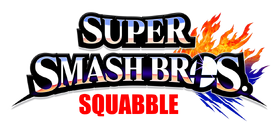 Scrap.
New Features
This game marks the first game in the series to have a requirement of buying DLC to play.
Starting Modes
Shop
Achievements (All the achivements require buying DLC)
Buyable modes
Brawl mode (Requires a minimum a 100 unlocked characters, but the only way to get characters is to buy them)
Solo/classic mode (Requires 200 unlocked characters)
Valut (requires all unlocked characters/extra)
Starting Characters
Buyable Characters
Each Character is $5 and you need to buy them in each mode to actually use them.
Metal Mario
Dr. Mario
Shadow Mario
Pink Gold Mario
Gold Mario 
Pink Mario
Gold Pink Mario
Shadow Metal Mario
Shadow Dr. Mario
Shadow Metal Dr. Mario
Metal Dr. Mario
Baby Mario
Metal Baby Mario
Metal Baby Dr. Mario
Metal Baby Dr. Shadow Mario
Metal Shadow Baby Mario
Shadow Dr. Baby Mario
Metal Baby Shadow Mario
Tanooki Mario
Tanooki Shadow Mario
Tanooki Metal Mario
Tanooki Baby Mario
Tanooki Dr. Mario
8-bit Mario
8-bit Tanooki Mario
Paper Mario
Dooplis Mario
Black and White Mario
Sepia Mario
Super Smash Bros 64 Mario
Super Smash Bros Melee Mario
Super Smash Bros Brawl Mario
Super Smash Bros Wii U Mario
Super Smash Bros 3DS Mario
Super Smash Bros Scrap Mario
Jump Man
Super Smash Bros 64 Luigi
Teen Mario
Preteen Mario
Old Man Mario
New Born Mario
1 Year Old Mario
2 Year Old Mario
3 Year Old Mario
4 Year Old Mario
5 Year Old Mario
6 Year Old Mario
7 Year Old Mario
8 Year Old Mario
9 Year Old Mario
10 Year Old Mario
11 Year Old Mario
12 Year Old Mario
13 Year Old Mario
14 Year Old Mario
15 Year Old Mario
16 Year Old Mario
17 Year Old Mario
18 Year Old Mario
19 Year Old Mario
20 Year Old Mario
21 Year Old Mario
22 Year Old Mario
23 Year Old Mario
24 Year Old Mario
25 Year Old Mario
26 Year Old Mario
27 Year Old Mario
28 Year Old Mario
29 Year Old Mario
30 Year Old Mario
31 Year Old Mario
32 Year Old Mario
33 Year Old Mario
34 Year Old Mario
35 Year Old Mario
36 Year Old Mario
37 Year Old Mario
38 Year Old Mario
38 1/2 Year Old mario
39 Year Old Mario
40 Year Old Mario
Mid Life Crisis Mario
41 Year Old Mario
42 Year Old Mario
43 Year Old Mario
44 Year Old Mario
45 Year Old Mario
46 Year Old Mario
47 Year Old Mario
48 Year Old Mario
49 Year Old Mario
50 Year Old Mario
51 Year Old Mario
52 Year Old Mario
53 Year Old Mario
54 Year Old Mario
55 Year Old Mario
56 Year Old Mario
57 Year Old Mario
58 Year Old Mario
59 Year Old Mario
60 Year Old Mario
61 Year Old Mario
62 Year Old Mario
63 Year Old Mario
64 Year Old Mario
65 Year Old Mario
66 Year Old Mario
67 Year Old Mario
68 Year Old Mario
69 Year Old Mario
70 Year Old Mario
71 Year Old Mario
72 Year Old Mario
73 Year Old Mario
74 Year Old Mario
75 Year Old Mario
76 Year Old Mario
77 Year Old Mario
78 Year Old Mario
79 Year Old Mario
80 Year Old Mario
81 Year Old Mario
82 Year Old Mario
83 Year Old Mario
84 Year Old Mario
85 Year Old Mario
86 Year Old Mario
87 Year Old Mario
88 Year Old Mario
89 Year Old Mario
90 Year Old Mario
91 Year Old Mario
92 Year Old Mario
93 Year Old Mario
94 Year Old Mario
95 Year Old Mario
96 Year Old Mario
97 Year Old Mario
98 Year Old Mario
99 Year Old Mario
100 Year Old Mario
101 Year Old Mario
Dead Mario
Dry Mario
Shrunken Mario
Capless Mario
Ice Mario (Mario Galaxy)
Mr.M
Baby Mr.M
Shadow Mr.M
Nega Mario
Inverse Mario
Shadow Mario
Mario in Luigi's clothing
Queer Mario
American Flag Colored Mario
African Mario
African-American Mario
Asian Mario
Latino Mairo
Indian Mario
Native American Mario
Pilgram Mario
70's rocker Mario
Mexican Mario
Irish Mario
Surf Mario
Deranged Mario
Upside-down Head Mario
Upsidde-down Mario
Eye Patch Mario
Peg-leg Mario
Bearded Mario
Shaved Mario
Bald Mario
Nostril Mario
Mario In Pajamas
Real Life Mario from the TV show
Blonde Mario
Ginger Mario
Iron Mario
Tin Mario
Copper Mario
Steel Mario
Silver Mario
Platinum Mario
Alluminum Mario
Lead Mario
Tungsten Mario
Nickel Mario
Brass Mario
Wario Clothed Mario
Overweight Mario
Underweight Mario
Glowing Mario
Scandium Mario
Titanium Mario
Zirconium Mario
Cobalt Mario
Chrome Mario
Mercury Mario
Zinc Mario
Unnilennium Mario
Yttrium Mario
Iridium Mario
Magnesium Mario
Sodium Mario
Pacman but with Mario's exact moveset and animations
SEGA Mario
French Mario
Stuffed Animal Mario
Mario with that flower thing
Pimp Mario
Gangster Mario
F.L.U.D.D. Mario
Cosmic Mario (Mario 3d world/land)
Soccer Mario
Cosmic Dr. Mario
Mario with really poor graphics from Super Mario Bros DS
Russian Mario
Communist Mario
Metal Cosmic Shadow Baby Mario
Powerful Mario
Weak Mario
Trash Mario
Disco Mario
Wild Mario
Naked Mario
Semi-Naked Mario
Birthday Suit Mario
Super Sayian Mario
Invisible Mario
A Minecraft Character with a Mario skin
Metal Minecraft Mario
Dr. Minecraft Mario
Shadow Minecraft Mario
Mario with baby Mario on his back from PIT
Shirtless Mario
Mario with a Halo
Devil Mario
Cowboy Mario
Fireman Mario
Derpy Mario
Glitchy Mario
Ghost Mario
Unfinished Model Mario
Mario with no animations
Upside down Mario
Young Link
Toon Link
Young Toon Link
Old Toon Link
New Born Link
Old Man Link
Old Man Toon Link
New Born Toon Link
Ocarina of Time Link
Majora's Mask Link
Original Zelda Link
Ocarina of Time HD Link
Majora's Mask HD Link
Twilight Princess Link
Skyward Sword Link
Link from the Begining of Skyward Sword Link
Zelda Cartoons Link
New Zelda for the Wii U Link
4 Swords Link
Minish Cap Link
Hour Glass Link
Girl Link
Fire Tunic Link
Water Tunic Link
Sky Tunic Link
Dark Tunic Link
Gold Tunic Link
Fierce Dietity Link
Link With Iron Boots On
Dark Link
Dark Link from that event match from Melee
Lunk
Ling
Lank
Lenk
Lonk