Super Smash Bros Glory

Battle it out in Smash Bros with the largest roster ever!

Publisher(s)
Pythonix Studios
Platform(s)
Wii U, New 3DS
Genre(s)
Fighting
Release Date(s)
2015
Mode(s)
Singleplayer, Online, Story, Classic
Age Rating(s)
E10+
Super Smash Bros Glory
is a
Super Smash Bros.
game for the
Nintendo Wii U
and
The New 3ds
. It is the sequel to Smash Brothers 4. It is revolutionary because it puts in characters that fans never thought would be in the series, such as
Shadow the Hedgehog
,
Banjo
&
Kazooie
and
Ridley
Newcomer Trailers
Following tradition from the previous installment of Smash Bros, this one will have reveal trailers for every newcomer introduced! This section will be updated every time a new character is revealed.
Enjoy watching these!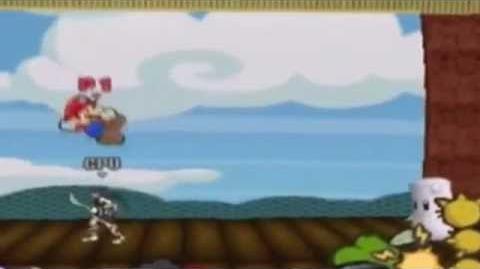 Characters
Starting Roster
| Character | Franchise | Newcomer? |
| --- | --- | --- |
| Mario  | Super Mario | No |
| Peach  | Super Mario | No |
| Bowser  | Super Mario | No |
| Yoshi  | Yoshi/Super Mario | No |
| Rosalina & Luma  | Super Mario | No |
| Bowser Jr  | Super Mario | No |
| Paper Mario  | Super Mario/Paper Mario | Yes |
| | | |
| | | |
| | | |
| | | |
| | | |
| | | |
| | | |
| | | |
| | | |
| | | |
| | | |
| | | |
| | | |
| | | |
| | | |
| | | |
| | | |
| | | |
| | | |
| | | |
| | | |
| | | |
| | | |
| | | |
| | | |
| | | |
| | | |
| | | |
| | | |
| | | |
| | | |
| | | |