Gameplay
The gameplay is the same as in other Super Smash Bros. games. Characters get weaker the more damage they take, and their damages can go up to 999%. Characters are KO'ed if they go off-stage.
Characters
The game has 106 playable characters, each one with it's own unique moves. Click in a character's name to go to it's page.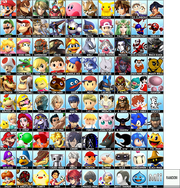 Mario
Alternate Costumes
TBA
Stages
TBA
Items
TBA
Assist Trophies and Pokéball Pokémon
TBA
Game Modes
TBA
Super Smash Bros. Ultra Lucha is a Super Smash Bros. game that will release at an unknown date.
Ad blocker interference detected!
Wikia is a free-to-use site that makes money from advertising. We have a modified experience for viewers using ad blockers

Wikia is not accessible if you've made further modifications. Remove the custom ad blocker rule(s) and the page will load as expected.