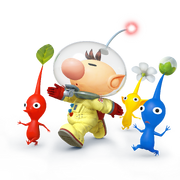 Olimar is a starter character in Super Smash Bros. Strength. He is very light, but very hard to hit because he is the smallest character in the game. Most of his attacks involve Pikmins.
Moveset
Neutral Special: Pikmin Pluck
Olimar plucks Pikmin in this order: Red, Yellow, Blue, Purple, White.
Strong Pluck
The Pikmin are slightly stronger, but are plucked in a random order.
Side Special: Pikmin Throw
Olimar throws a Pikmin at the foe, which then proceeds to attack the foe. After a while, they will come back to Olimar.
Rock Pikmin
Olimar throws a Rock Pikmin. They do bigger damage and knockback, but won't come back and thus can only be used once.
Up Special: Winged Pikmin
A winged Pikmin comes quickly and carries back Olimar to the stage if he is offscreen. However, the Winged Pikmin last shorter the more Olimar has Pikmins.
Fragile Winged Pikmin
The attack is easier to stop by foes and Olimar becomes helpless after the attack ends. However, the Winged Pikmin will always go the same distance no matter what.
Down Special: Pikmin Order
Olimar uses a whistle to make his Pikmin go back to him. The Pikmin now damage foes in thier path.
Armor Whistle
Olimar is invincible while the move is used. However, the Pikmin won't do damage and will take more time to come back.
Final Smash: End of Day
Olimar goes in a rocket and flies to the sky along with his Pikmin. Monsters then attack the foes. The rocket falls back to the stage and explodes, doing high knockback if it hits foes.
End of Day Variant
The rocket won't do any damage, but the monsters do more damage and knockback.
Pallette Swaps
Normal
Red
Green
Grey
Blue: Looks like Alph from Pikmin 3
Alt Green: Alph, based on Charlie from Pikmin 3.
Pink: Alph, based on Brittany from Pikmin 3.
Alt Red: Alph, based on Olimar from his own series.
Ad blocker interference detected!
Wikia is a free-to-use site that makes money from advertising. We have a modified experience for viewers using ad blockers

Wikia is not accessible if you've made further modifications. Remove the custom ad blocker rule(s) and the page will load as expected.