Ad blocker interference detected!
Wikia is a free-to-use site that makes money from advertising. We have a modified experience for viewers using ad blockers

Wikia is not accessible if you've made further modifications. Remove the custom ad blocker rule(s) and the page will load as expected.
Certain characters can activate a Smash Taunt by using their down taunt on specific stages. These do not affect the flow of battle in any way and are mere bonuses.
Palutena's Guidance
Mario
| | |
| --- | --- |
| | Hey, it's Mario! |
| | I don't get all the fuss. He's a human! |
| | Aw, c'mon! He's Mario! How bad can he be? |
| | He eats plants. Then uses fire to burn more mushrooms. |
| | Are there any humans you don't hate? |
| | No, not really. |
| | What a party pooper. |
Inkling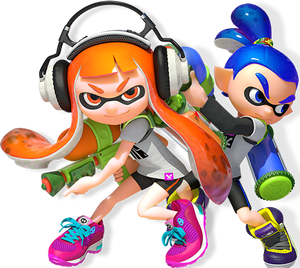 | | |
| --- | --- |
| | I'm indifferent about this one. |
| | Why? |
| | Well, they mess up the environment, but then again, they're not even humans half of the time. |
| | Their ink vanishes after a Turf War, so there's no need to worry! |
| | Wait, how are they humans only half of the time? |
| | That, Pit, is an Inkling. They can transform into squids at will and make use of ink. |
| | So they're really good swimmers? |
| | Not really. They dissolve in water. |
| | They're... made of ink? |
| | Exactly. That means they've got an unlimited supply when they swim in their ink. |
| | Let's just sea who'll win! |
Squidbeak Codecs
Tattle