Waluigi
Universe
Mario
Availability
Unlockable
Final Smash
Rose Tornado
Waluigi
is one of the Unlockable Characters for Super Smash Bros. Ragnarok. A rival to the Green Bro, Luigi, Waluigi is a charismatic individual who is deceptive and often cheats, he uses dirty tactics when he goes up against his shorter rival and his red brother.
Moveset
| Special | Move |
| --- | --- |
| Neutral Special | Racket Slam |
| Side Special | Mirror Surprise |
| Up Special | Dancing Flight |
| Down Special | Heavy Stomp |
| Final Smash | Rose Tornado |
| Paired Smash | Razor Gust |
Pairing
A new feature in Super Smash Bros. Ragnarok, pairing has a secret ability in which if both characters perform Final Smashes together. Every Character has a partner that gives both Final Smashes a 5% Damage Boost when performing a Paired Smash.
Special Pair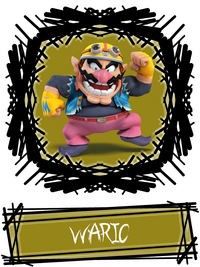 Anti Bros.