Villager
Universe
Animal Crossing
Availability
Starter
Final Smash
Train Station
Villager
is one of the Starter Characters for Super Smash Bros. Ragnarok. An active member of any Animal Crossing Town, the Villager helps out where they can providing various objects to the animal villagers of the Town. While their role is simplistic it is only through their actions that their Town can change properly.
Moveset
| Special | Move |
| --- | --- |
| Neutral Special | Pocket |
| Side Special | Lloid Rocket |
| Up Special | Catch of the Day |
| Down Special | Timber |
| Final Smash | Train Station |
| Paired Smash | Train Storm |
Pairing
A new feature in Super Smash Bros. Ragnarok, pairing has a secret ability in which if both characters perform Final Smashes together. Every Character has a partner that gives both Final Smashes a 5% Damage Boost when performing a Paired Smash.
Special Pair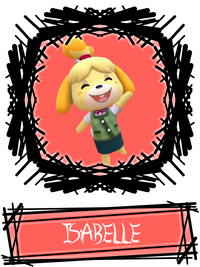 Village Builders