Luigi
Universe
Mario
Availability
Unlockable
Final Smash
Giga Fire
Luigi
is one of the Unlockable Characters for Super Smash Bros. Ragnarok. Sometimes forgotten by others, Luigi is a powerful fighter who has a lot of unnoticed abilities. Where his brother is the classic hero who save the Princess, Luigi has lead himself on many an adventure alone or with the Toadspeople.
Moveset
| Special | Move |
| --- | --- |
| Neutral Special | Zap Shot |
| Side Special | Green Rocket |
| Up Special | Twirling Jump |
| Down Special | Negative Sphere |
| Final Smash | Poltergust 5000 |
| Paired Smash | Vacuum Bolt |
Pairing
A new feature in Super Smash Bros. Ragnarok, pairing has a secret ability in which if both characters perform Final Smashes together. Every Character has a partner that gives both Final Smashes a 5% Damage Boost when performing a Paired Smash.
Special Pair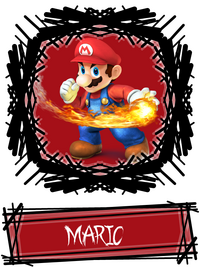 The Bros.