King Hippo
Universe
Punch-Out!!
Availability
Unlockable
Final Smash
Hippo Bomber
King Hippo
is one of the Unlockable Characters for Super Smash Bros. Ragnarok. The ruler of Hippo Island in the South Pacific, King Hippo is a greedy individual who steals the food of his people to fill his gluttonous tendencies. This hulking behemoth of a man has virtually nowhere that can easily be hurt, except for his belly.
Moveset
| Special | Move |
| --- | --- |
| Neutral Special | Belly Basher |
| Side Special | Belly Slam |
| Up Special | Riser Punch |
| Down Special | Duck 'n Raise Punch |
| Final Smash | Hippo Bomber |
| Paired Smash | Fruit Bomber |
Pairing
A new feature in Super Smash Bros. Ragnarok, pairing has a secret ability in which if both characters perform Final Smashes together. Every Character has a partner that gives both Final Smashes a 5% Damage Boost when performing a Paired Smash.
Special Pair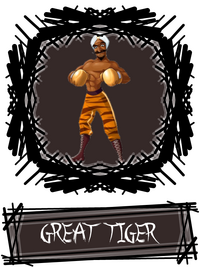 Impossible Men