This is Dry Bones, Pokemon DP, and Peach's project. If you are not one of the three mentioned, do not edit this page, or suffer the wrath of KILLER game producers!!

May. 8 Thu. 2008
The Basics
This is the world of Smash!

The basic gist of Smash Bros. is to fight and defeat your opponents on a selected stage.
You can have two players fighting, three players fighting, or you can max it out at four players fighting!

You must inflict damage on your opponents, rising their damage counter

Doing so will make them easier to knock off the stage.

The more damage they have taken, the easier they will be to launch off the stage

If a player is launched off screen...

They lose a life

There are several different modes of play, some of which don't revolve around knocking out your opponents in this fashion. But in 2 Minute matches, or Stock matches, all you can hope for is smashing your opponents until they fly right off the stage.
---

May. 7 Wed. 2008
Link

Link comes back to the fray once again, but his amount of equipment makes him somewhat heavy and slow.
He's a tad more swift now, but his jumping abilities aren't as sharp as they once were.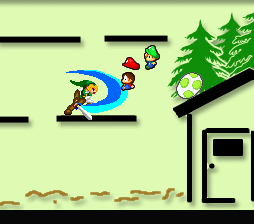 ---

May. 6 Tue. 2008
Mario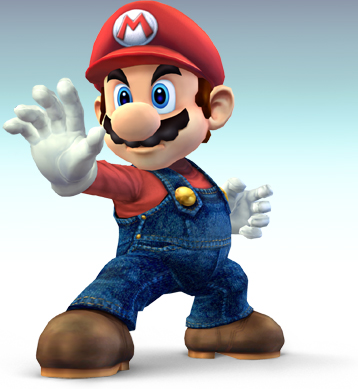 The Nintendo mascot still lives strong in the Smash universe, as he makes his way to the battlefield once again.
While his moveset still remains the same, he retains his role as the balanced individual to help get used to the game.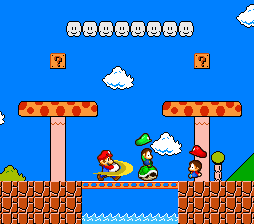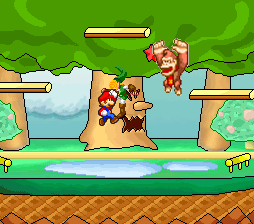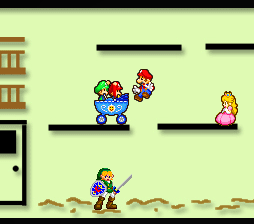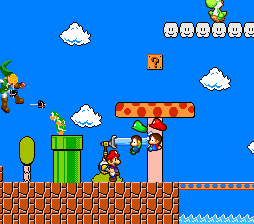 ---

May. 5 Mon. 2008
Mushroom Kingdom

It's Mushroom Kingdom! A recurring stage throughout the Smash Bros. series. It retains its retro 8-bit feel, doesn't it?

Funky

While the stage seems like a mere harmless setting, it's not all fun and games, oh-no.

Whoa, the old classic enemies of yesteryear!

And we've added a little surprise to it...

The stages setting will change to match your Wii Clock setting

How's that for an introduction? Oh, and, those pipes aren't just for show, ya know.

Going down... Then coming back up!

Go in one, you come out the other. It's a good escape route, so try it!
---
May. 5 Mon. 2008
Super Mario Bros. Medley



Super Mario Bros. Medley


A true work of art, this music is. Featured previously in Super Smash Bros. Brawl, we brought it into this game, untouched.

It plays on Mushroom Kingdom, no doubt. But this isn't the only music that will play on said stage...
---