Super Smash Bros. Pocket is an upcoming game for the PocketGamer. It plays like any other SSB DS game.
Characters
Mario
Luigi
Wario
Waluigi (unlockable)
Peach
Bowser
Yoshi
Toad (unlockable)
Link
Zelda/Sheik
Olimar
Louie (unlockable)
ROB (unlockable)
Pit
Kirby
Meta Knight
King Dedede
Waddle Doo (unlockable)
Pokemon Trainer-male
Pokemon Trainer-female
Pikachu
Samus
Zero Suit Samus (unlockable)
Ness (unlockable)
Lucas (unlockable)
Box art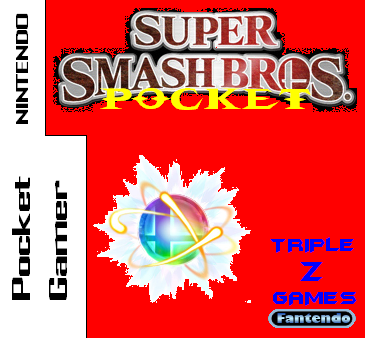 Sexism
Originally, the male Pokemon trainer was going to be available from the start while the female trainer was an unlockable, but this was deemed sexist and Nintendo made them both immeditely available.
Ad blocker interference detected!
Wikia is a free-to-use site that makes money from advertising. We have a modified experience for viewers using ad blockers

Wikia is not accessible if you've made further modifications. Remove the custom ad blocker rule(s) and the page will load as expected.