| | | |
| --- | --- | --- |
| | This article belongs to Lumoshi. If you do not have permission, please do not edit this page, other than correcting grammatical conventions and adding or changing categories. | |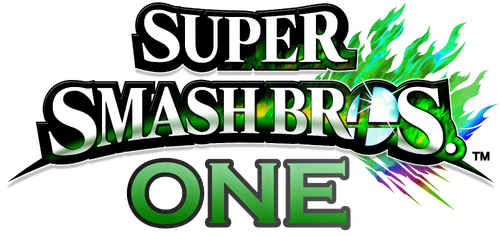 Super Smash Bros. One
is a fighting game made by
Comet Gaming, Inc.
for the
Nintendo Comet
. It will be the fifth installment in the
Super Smash Bros.
series. Its defining new gameplay characteristic is the introduction of three-dimensional battle arenas.
Gameplay
Super Smash Bros. One retains the gameplay of past games in the series for the most part. Characters from various Nintendo series face off in an arena and use various attacks to deal each other damage. Increased damage makes it easier to knock others off the stage, which is the objective, rather than depleting damage meters.
Stages are now three-dimensional rather than two, which will make for more interesting controls. Players can either move the camera through the right control stick or by using gyroscope controls. The left stick is used for moving the character. X is still used to jump, and A and B are the main attack buttons. Players can grab or shield with shoulder buttons.
Characters
Upon announcement, eight characters were confirmed. Little is known about their movesets and whether they are unlockable or default.
Veterans
Newcomers
Character Ballot
Directly after announcement of the game, Comet Gaming, Inc. opened a Character Ballot so that fans could suggest characters that they wanted in the game. C.E.O. Lumoshi states that the development team aims to cater to the wants of the fans.
Stages
Four three-dimensional stages were shown. They consist of:
Battlefield
Final Destination
Yoshi's Island (Super Mario)
Urchin Underpass (Splatoon)
Ad blocker interference detected!
Wikia is a free-to-use site that makes money from advertising. We have a modified experience for viewers using ad blockers

Wikia is not accessible if you've made further modifications. Remove the custom ad blocker rule(s) and the page will load as expected.