Due to the humorous nature of this article, it is being kept for entertainment purposes. Therefore, please do not delete it or flag it for deletion.
In this game you must battle your friends in All On All, 2 On 2 and Gang Up modes.
Also, in adventure mode battle through the hoard of zombies to try and get the golden egg before Dr Zomboss.
Adventure Mode Worlds:
1-Mushroom Kingdom (Boss-Bowser)
2-PNF-404 (Boss-Empress Bulblax)
3-Arkus (Boss-Kaos)
4-Kalos (Boss-Mewtwo)
5-Lego City (Boss-Rex Fury)
6-Castle Rock (Boss-Dark Rayman)
7-Smurf Village (Boss-Gargamel)
8-Crazy Dave`s House (Boss-Dr Zomboss)
9-Tower Of The Golden Egg (Boss-Golden Zomboss)
10-Tower Of The Golden Egg Pt2 (Boss-?????)
Bonus-Main Street (Boss-Angry Tom Nook)
Bonus 2-Scribbleworld (Boss-Clone)
Bonus 3-Green Hill Zone (Boss-Shadow)
The characters are :
Name
Picture

Mario

A-Regular Attacks

B-Fireball

Final Smash-Super Star

Olimar

A-Chuck Pikmin

B-Punch

Final Smash-Pikmin Army Attack

Pikmin-Red,Blue And Yellow

Pacman

A-Regular Attacks

B-Roll

Final Smash-Classic Chomp

Pit

A-Bow And Arrow

B-Orbitars

Final Smash-Palutena`s Rage

Pokemon Trainer

A-Regular Attacks

B-Elemental Power

R/L- Change Pokemon

Final Smash-All Pokemon Attack

Kirby

A-Suck

B-Punch

Final Smash-Suck In All On Enemies

File:Project Universal Kirby.png

AC Villager

A-Regular Attacks

B-Pick Up/Throw

Final Smash-

Spyro

A-Breath Fire

B-Tail Whip

Final Smash-Massive Fire Breath

Rayman

A-Regular Attacks

B-Helicopter

Final Smash-Charged Punch

Genesect

A-Fire Power

B-Electric Punch

Final Smash-Techno Blast

Luigi (Unlockable, Complete Mushroom Kingdom In Adventure Mode)

A-Regular Attacks

B-Zoom

Final Smash-Poltergust 3000

Globox (Unlockable, Use Rayman 30 Times)

A-Regular Attacks

B-Glide

Final Smash-Smack

Smurf (Unlockable, Use All Original Characters)

A-Regular Attacks

B-Sleep Song

Final Smash-Smurf Army Attack

Trigger Happy (Unlockable, Use Spyro 40 Times)

A-Fire Gun

B-Chuck Pot-O-Gold

Final Smash-Gattling Gun

Louie (Unlockable, Defeat Olimar With Olimar 3 Times)

A-Chuck Pikmin

B-Punch

Final Smash-Giant Bulborb Attack

Pikmin-White,Rock And Flying

Maxwell (Unlockable, Complete Adventure Mode)

A-Regular Attacks

B-Pencil Sword

Final Smash-Scribble(Create Anything)

Meta Knight (Unlockable, Use Kirby 50 Times)

A-Sword Attacks

B-Glide

Final Smash-Ultimate Slash

Toad (Unlockable, Defeat Kaos In Adventure Mode)

A-Regular Attacks

B-Dance

Final Smash-Toad Army

Bowser (Unlockable, Defeat In Adventure Mode)

A-Fire Breath

B-Regular Attacks

Final Smash-Kart

Pikachu (Unlockable, Use Pokemon Trainer 100 Times)

A-Thunder Bolt

B-Iron Tail

Final Smash-Volt Tackle

Resetti (Unlockable, Battle In Able Sisters 150 Times)

A-Punch

B-Dig

Final Smash-Shout

Sonic (Unlockable, Complete Arkus World)

A-Regular Attacks

B-Dash

Final Smash-Super Sonic

Knuckles (Unlockable, Use Sonic 300 Times)

A-Sword Attacks

B-Climb

Final Smash-Jump, Smash

Nabbit (Unlockable, Pick Up 150 Things With AC Villager)

A-Steal

B-Dash

Final Smash-Steal All Powers

File:NabbitTheRabbit.png

Donkey Kong (Unlockable, Complete Castle Rock)

A-Regular Attacks

B-Chest Drum

Final Smash-Bongo Drums

Chase Mccain (Unlockable, Battle In Lego City Police Station 200 Times)

A-Regular Attacks

B-Handcuff

Final Smash-Super Build

Minion (Unlockable, Defeat Gargamel In Adventure Mode)

A-Punch

B-Shout Beedo

Final Smash-Banana Song
Dr Zomboss (Unlockable, Complete Adventure Mode On Mega Hard Difficulty)

A-Stomp 

B-Punch

Final Smash-Zombie Army
Jumpman (Unlockable, Complete

Adventure Mode In 8-Bit Mode)

A-Jump

B-Climb Ladder

Final Smash-8-Bit Smash
Modes:
Battle Mode (Battle your friends)
Adventure Mode (Get to the Golden Egg before Dr Zomboss)
Classic Mode (Battle CPU`s)
Boss Battle 'Unlockable by completing Adventure Mode' (Battle all the bosses again one after another)
Virtual Console 'Unlockable by completing Boss battle' (Go through classic games like Super Mario Bros. and Pikmin with the characters in SSBL)
Battle Stages:
Draw Your Own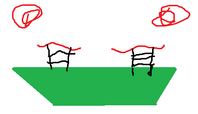 Build Your Own
Mushroom Kingdom World 1
Tropical Wilds
Lego City Police Station
Chemical Plant
Able Sisters
Pokemon Arena
Gargamels Lair
Zombie Lawn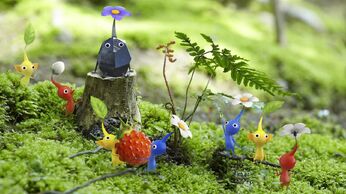 Save Data Transfer
Halberd
Scribble Land
Flipnote Studio Flynn's Ship
Outside Gru`s House
Zen Pinball
Murfy`s Dungeon
Wii U Vs 3DS
Death Star
Battle Modes:
Free For All (An all against all battle)
2 On 2 (A battle against 2 teams of 2)
Gang Up (A battle against a team of 3 and a single player)
Super Scribble 'Unlockable By Unlocking Maxwell' (All players are Maxwell and have unlimited final smashs) 8-Bit Mode (All Characters Are 8-Bit In This Mode)
Adventure Mode Difficulty Levels:
Ultimate Easy 'Unlockable By Completing Mega Easy Mode' (Enemies Die On Contact)
Mega Easy 'Unlockable By Completing Easy Mode' (Enemies = One Hit Kill)
Super Easy (Enemies = Much Easier Than Usual)
Easy (Enemies = Easier Than Usual)
Normal (Enemies = Normal Power)
Quite Hard (Enemies =  Bit Harder Than Usual)
Hard (Enemies = Harder Than Usual)
Super Hard (Enemies = Much Harder Than Usual)
Mega Hard 'Unlockable By Completing Hard Mode' (Enemies = Extreme Power)
Ultimate Hard 'Unlockable By Completing Every Mode' (Enemies = Almost Impossible To Defeat)