Ad blocker interference detected!
Wikia is a free-to-use site that makes money from advertising. We have a modified experience for viewers using ad blockers

Wikia is not accessible if you've made further modifications. Remove the custom ad blocker rule(s) and the page will load as expected.
Is the list of Palette Swap of Super Smash Bros. Explosion .All characters have 2 unlockable palette swap complete the All Star Mode with character for unlocked the palette.
Mario
Red : The normal visual of Mario
Fire : The Fire Mario
Retro :  Remember the times Jumpman
Yellow : Remember Wari

o

Green : Same of others games

Ice :Remember Ice Mario : Unlock beating All Star Mode with Mario
Cosmic : Remember Cosmic Clone :Unlock beating All Star Mode with Mario 2 times
Mii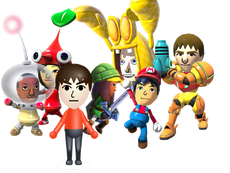 Random Color : The color of your mii
Mario : Mario style from Nintendo Land
Link : Link style from Nintendo Land
Samus : Samus style from Nintendo Land
Olimar : Olimar style from Nintendo Land
Red Pikmin : Pikmin style from Nintendo Land : Unlock beating All Star Mode with Mii
Golden Ghost : Ghost style from Nintendo Land : Unlock beating All Star Mode with Mii 2 times
King K.Rool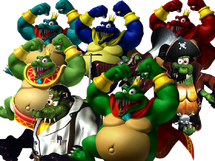 Green : Normal visual
Red : Remember Red Kritter
Blue : Remember Blue Kritter

Pharaoh

 : Mario Super Slugger Style
Cian : Remember Klatrap
Pirate : Remember Kaptain K.Rool : Unlock beating All Star Mode with King K.Rool
Baron : Remember Baron K.Roollenstein : Unlock beating All Star Mode with King K.Rool 2 times
DLC
Mario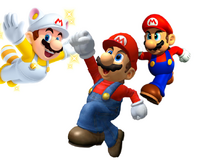 Melee :Melee version
64 :Remember 64 Mario
White Raccoon :Style NSMB2