Super Smash Bros. Destruction
Developer(s)
Publisher(s)
Platform(s)
WiiU
Release Date(s)
TBA
Mode(s)
Single player, Multiplayer, Online
Age Rating(s)

Genre(s)
Fighting
Series
Super Smash Bros.
Super Smash Bros. Destruction
is an upcoming fighter game in the
Super Smash Bros. Series
. It will be released on the
Wii U
. The Game is being developed by
Dark Flame Studios
although they have not released an official launch date although speculate it will be in the near future.
Gameplay
The gameplay follows the traditional methods used in Super Smash Bros. Brawl and super Smash Bros. 3DS/Wii U (Wii U Version) with its controls and graphical abilities remaining similar to its predescessor. The battles in comparison are more lengthy allowing for a genuine feel of strife between the characters as opposed to Melee's fast-paced action. Returning elements and features of the games past like the Final Smashes and Tripping return to the game. Wall Jumping (Clinging is dependent on character) returns as well.
The game features an expanded roster encompassing more characters than the previous games in the series.
The game's controls for the basics remain the same primarily due to the lack of a console change. The main goal also remains the same with the player's aim to be to knock out their opponents by increasing their percentage bar which in turn makes it easier for a player to be shot off the stage. A KO is only achieved when the player knocks the enemy off the stage, this is still indicated by the explosion animation (although the explosion itself varies with characters similar to Mega Man from Super Smash Bros. 3DS/Wii U). The scoring system has had a slight change as players are awarded for many factors now aside from just the knock outs and can also be penalized based on the options chosen.
The point system introduced in this game is more complex than the previous games as many factors of the fights themselves contribute to the player's score. A KO now counts for 3 Points, dealing 150% damage overall counts for 2 Points after each 150%, using a Final Smash to knock out enemies adds an extra point to the 3 for the KO of each enemy. Using an item to knock out an enemy gives an extra point while dealing 150% damage with a weapon gives the player 1 point. Aside from these benefactors taunts also have slight effects as if the player is able to either pull of 3 taunts without interruption will yield 1 point and every 12 taunts dealt gives 1 point. These options can be activated or de-activated, with the only permanent factor being the KO's points. Also under the options are deduction points these points can make the game more difficult and even are mirrors of the previous ways to obtain points. These include, recieving a KO loses 1 point, recieving 200% damage loses 2 points, using a Final Smash to knock out enemies only gives 1 point per enemy knocked out. Using an item to deal damage or knock out an enemy deducts 1 point and allowing an enemy to taunt 3 times without interruption loses 1 point. Aside from the factors which conflict each other all of these options can be active at the same time.
Basic attacks are performed with the 

 Button whether in the air or on land, in addition to these land and air attacks due to the inclusion of water there are also two aquatic variations on the attacks, surface and underwater. Surface attacks are similar to air attacks although are performed approximately 85% of the regular speed. Underwater attacks function similarily to their land equivalents although are performed at 50% of the regular speed. This change in dynamics has allowed for the creation of stages focused around the theme of water and can turn a battle very quickly. As well as regular attacks, special attacks also appear. These can be used by pressing on the 

 button which causes the character to perform Special Moves. Variations on these moves van be performed by rotating the 

 in the four major directions. Where it is tilted effects the attack (although like previous games rotating left and rotating right yield the same attack).
The Shield attacks also return in which a character can perform a shield move and is able to block a majority of the attacks. Players can also perform dodging techniques by rotating the 

 down or to the sides while also using a shield. The dodge can also be performed in mid-air for oncoming attacks while the player is jumping or falling. The Shield is not invicinble however as the shield is compact and not resistant to an infinite barrage of attacks as it will crack, should the shield break the player will shudder slightly before continuing. Grabbing is also possible while using a shield. The player is able to grab an opponent who can then throw the opponent with the 

 or pummel the opponent with the attack button. Opponents can break free however by moving the 

 and mashing buttons although this is affected by the percentage as players with a low percentage will break free easily while ones with a high percentage wil ltake longer.
Some new features implimented into the games include Water Running, Back Stride and Water Dispersion. Water Running is only accessible to light characters who are also relatively fast or agile, this ability allows them to run across water if they were already running and will only fall if hit by an attack, stop or make contact with an opponent. Back Stride allows for a quick shift among some characters. Character with high traction control such as Mario but not Luigi are able to perform Back Strides which allows for them to continue running at the same speed but change direction at any time without slowing down or stopping. This ability does leave characters vulnerable as during the turn over if they are hit from a projectile or from above they will be temporarily stunned. Lastly, Water Dispersion is an ability only available to large, heavy characters and once again involves Water. Water Dispersion allows the the charcter to create large ripples or waves in water which is able to slow down attacks and can actually de-activate the Water Running ability if another character is using it.
Grab also has been given two new versions, Sky Catch and Deep Catach. Both of these abilities involve movement while either jumping or swimming. Sky Catch allows for players to grab other players in mid-jump this ability cannot be coupled with the recovery move however, and requires the player to be running and then jump while still running. Deep Catch allows for the player to move underwater and grab an opponent, when grabbed the player can either tap 

 down to throw the opponent down or 

 up to launch them out of the water. It is important to note that while these abilities can be used by most characters it is impossible for characters who are lighter than others to life the heavier opponent (eg. Mario cannot Sky Catch or Deep Catch Bowser but Bowser can Sky Catch or Deep Catch Mario).
Swimming underwater however has added effects as the player will have a blue bar pop-up below their character's icon which indicates oxygen, this indicates how long the player can stay underwater. It is important to note that if the player runs out of oxygen they will gain 50% and be launched out of the water and temporarily stunned. Some characters have larger oxygen bars than others such as Bowser, Ganondorf and Captain Falcon having more than Mario, Pikachu or Donkey Kong. There is a third group of Oxygen breathers though which are the infinite breathers, these select few characters are able to stay underwater indefinetly due to who they are, such characters include Kirby, King Dedede and Greninja. It should also be noted that Fire-Based characters like Charizard automatically take damage from Water upon entering.
Customization also returns from Super Smash Bros. 3DS/Wii U, with aspects such as the attacks, outfits and colouration returning. Also introduced are customizable specialities, there only apply to the humanoid characters (eg. Mario, Link & Fox), these specialities are pieces of clothing that can be applied to all potential characters, although purely asthetic. Examples of this clothing include the Hover Boots, Samus' Helmet and FLUDD. Effects have also been added to the game, these are applied to the introduction of a character, during battle and on the podium stand. Although all effects can be applied to each of these sections of the game they have different appearances for each one, for example the explosion effect for an intro is a classic explosion while in battle it is a small smoke bomb explosion and after victory it is Fireworks Explosions.
Online play once again follows the basis used in Super Smash Bros. Brawil and Super Smash Bros. 3DS/Wii U. Options can be customized by players in local multiplayer and all Miis are available on the player's console. Online play is slightly more limited with the Miis as only Miis that have been uploaded to the Miiverse at least 24 hours prior will be playable. The modes for Online however have also changed becoming Peaceful, Adventure, Staked & Tournament. Peaceful mode allows for the game's host to pick a stage and options (although limited) and control the pre-game decisions (except character select). Adventure mode is similar to Smash Run from the previous game and has the player navigate through a giant maze trying to find the other players and defeat each of them, there is no set time limit as it is last man standing and the power-ups and enemies also appear. Staked features 1v1, 1v1v1v1, 2v2, 2v2v2 or 3v3 modes in which losing or winning results in points being applied to the respective player's Smash Bros. profile. Lastly, Tournament can be hosted by a player or will occasionally be organized by the Miiverse itself (except the annual Ultimate Smash Tournament). In a hosted Tournament there can be between 4-32 players, this functions like a regular tournament with opponents going 1v1 in Final Destination style battlefields which are randomly chosen. Should a player lose they will join the spare games which are non-recorded matches where there are 4 arenas chosen at random and any player can join these matches. In the organized Tournaments special conditions such as pre-limenary rounds and pre-requesites must be met before competing, these pre-requesites for an organized tournament are; 20 Online Matches, completion of the Main Storyline and having unlocked every character (excluding DLC as they are not in organized matches). The main tournament, called the Ultimate Smash Tournament is held every year by Nintendo and allows players to compete for a chance to win a variety of prizes, every year the same items are available to be one which include, the Golden Crown (1st Place), The Golden Belt (1st & 2nd Place), the Golden Armour (1st-4th Place) and the Golden Boots and Bracters (1th-8th Place). The winner of each tournament will get all of those prizes as well as a DLC character for free. At the current time there are 14 DLC characters available and this means there are 14 years already set up.
The controllers for the game are also varied as a player can use a Wii Remote & Nunchuck, Wii U Game Pad, Wii U Fusion Controller (Wii Remote and Nunchuck fused into a single controller) and the Nintendo Gamecube Controller. Button configuration is also available from the default set-up.
Playable Characters
The game is confirmed to have 63 playable character (Not counting DLCs). Interestingly both of the previous transformations (Shiek and Zero Suit Samus) do not appear as either transformations or seperate characters. The game has 15 necomers and 48 returning veterans to the series.
Returning Characters
Character Name

Image

Information

Move Type

Attack

Mario

Mario is an Italian Plumber who is the hero of the Mushroom Kingdom. He travels far and wide to save his Princess from any foe he must face. Along the way he has met up with many different characters who helped him reach his goal. 

Neutral

Fireball 

Side

Hammer 

Up

FLUDD

Down

Ground Pound

Final Smash

Fire Flower Supreme 

Luigi

Luigi is the cowardly and sometimes goofy brother of Mario. He often accompanies Mario on the various adventures across the Mushroom Kingdom and beyond. He has a well-known fear of ghosts however at times is able to overcome this fear and defeat the evils of darkness. 

Neutral

Fireball 

Side

Green Missile

Up

Super Jump Punch 

Down

Luigi Cyclone 

Final Smash

Poltergust 5000 

Bowser

Mario's greatest enemy, the King of the Koopas, Bowser. His mighty power and fire breath have always been a challenge for Mario and lately he has been using new tactics to fight Mario including using Mechanical inventions and Koopa Magic. 

Neutral

Slash

Side

Fire Breath

Up

Horn Thrust 

Down

Stomp 

Final Smash

Kamek Magic Giga Bowser 

Peach

The Ruler of the Mushroom Kingdom, Princess Peach may look like the classic Princess-in-Distress but underneath this princess appearance lies a powerful fighter how has gone out on her own to rescue Mario and fight the force of evil alongside her allies.

Neutral

Toad

Side

Peach Bomber

Up

Peach Parasol 

Down

Fury Flame

Final Smash

Dance of the Floating Peach 

Rosalina

The Queen of space, Rosalina is quite capable of using her abilities and friendship with Lumas to her advantage. She is capable of impressive feats of fighting and movement being agile and durable. 

Neutral

Luma Shot

Side

Star Bit Flurry

Up

Launch Star

Down

Gravitational Pull 

Final Smash

Star Bit Meteor Storm

Bowser Jr.

Bowser Jr., Prince of the Koopa Kingdrom and heir to the throne, he is a menacing child who will go out of his way to beat Mario and help his father secure the throne of the Mushroom Kingdom. Using his Clown Car he is very agile and mobile. 

Neutral

Bob-Omb Puncher 

Side

Kart Ram

Up

Aerial Drill

Down

Mecha Koopas 

Final Smash

Clown Car Beat 'em Up 

Donkey Kong

Donkey is the Great Ape and leader of his Jungle Island and often has to defend it from invading forces whether they be Crocodiles, Tiki or Arctic. Donkey Kong is a seriously powerful ape whose strength often helps him in victory. 

Neutral

Arm Swing Madness 

Side

Great Tornado

Up

Ape Uppercut

Down

Ground Slam 

Final Smash

Kongo Great Buster

Diddy Kong

The Nephew of the big ape himself is just as capable of handling situations as his uncle. With his Barrel Jetpack, Peanut Popguns and Agile movement he is able to use his surroundings to his advantage.

Neutral

Back Hand Slap

Side

Tail Spin 

Up

Jetpack Swing 

Down

Peanut Dive 

Final Smash

Jetpack Overload

Mr. Game & Watch

Mr. Game and Watch may seem a bit out of place with his static movement, but he is not one to be toyed with lightly. He is able to use a variety of unconventional items as weapons against opponents and has a devastating final smash.

Neutral

Chef

Side

Judge 

Up

Fireman

Down

Oil Panic

Final Smash

Octopus 

R.O.B.

ROB may not look it but he is a diverse robot capable of many ways of attack and able to summon powerful attacks mostly centralized around his Robotic capabilities. 

Neutral

Robo Beam

Side

Wild Rotor

Up

Robo Launch 

Down

Gyro 

Final Smash

Super Diffusion Beam

Samus Aran

Samus Aran is a space bounty hunter who travelled across the galaxy to fight the evil Space Pirates. Armed with her powerful Arm Cannon she can destroy any foe no matter the size or ferocity. 

Neutral

Missile 

Side

Freeze Beam 

Up

Screw Attack 

Down

Power Bomb

Final Smash

Zero Laser 

Link

A Warrior of Hyrule, Link fights with the Power of the Triforce of Courage bound within him. Whenever he needs to call upon it he is able to overcome any obstacle and defeat any enemy.

Neutral

Hookshot

Side

Gale Boomerang 

Up

Skyward Strike 

Down

Bombs

Final Smash

Fatal Blow 

Toon Link

While not being as serious at his counterpart at times, there is no doubting that Toon Link has just as many ways to fight as his counterpart if not more. With his trusty Master Sword and Shield he can conquer any foe no matter the size.

Neutral

Power Bracelet 

Side

Fire Rod

Up

Tornado Rod 

Down

Bombs

Final Smash

Downward Stab 

Ganondorf

The Prince of Darkness, King of the Gerudos and the only villain to fight multiple incarnations of the Hero of Courage. His beast form is incredibly powerful and said to be accessed by the Triforce of Power imbued within him.

Neutral

Warlock Punch 

Side

Deadman's Volley 

Up

Primal Rage

Down

Ground Pound Punch

Final Smash

Ganon 

Zelda

Zelda, the princess of Hyrule is an adaptable fighter who uses a Rapier and Bow to combat anyone who opposes her. She is very agile and able to deliver attacks at an immeasurable speed. 

Neutral

Light Bow 

Side

Rapier Stab 

Up

Song of the Godess

Down

Phantom Slash 

Final Smash

Godesses Blessing

Pit

Pit is the captain of the Royal Guards who protect the Goddess of Light. He is a loyal servant and a noble fighter. He is able to use his wings to perform aerial fighting attacks and is incredibly strong when airborne.

Neutral

Palutena's Arrow 

Side

Dual Blade Slash

Up

Divine Wings 

Down

Guardian Orbitars 

Final Smash

Three Sacred Treasures 

Palutena

The Goddess of Light, she is a deity not to be messed with. She is capable of powerful magic and an adapt melee fighter with her staff. 

Neutral

Heavenly Light

Side

Angelic Missile 

Up

Jump Glide 

Down

Counter

Final Smash

Black Hole Laser 

Little Mac

A young boxer, although shorter than most of his competition he has proven that he has a bigger heart and is more determined than what his exterior shows. He has even taken down the big ape himself.

Neutral

Quick Jab

Side

Thunder Back Swing 

Up

Uppercut

Down

Overthrow

Final Smash

Giga Mac 

Ness

Ness is a young boy who's great adventure lead him to mysterious and bizarre places which would confuse and create fear within others. He is able to access special powers called PK which allow him extra abilities in Battle.

Neutral

PK Flash

Side

PK Fire

Up

PK Thunder

Down

PSI Magnet

Final Smash

PK Starstorm 

Lucas

While not being as confident as Ness, Lucas is extremely powerful in the pinch of battle. His PK love is able to summon the Dark Dragon and he is a capable melee fighter.

Neutral

PK Flash

Side

PK Freeze

Up

PK Fire Burst

Down

PSI Vacuum

Final Smash

PK Love 

Captain Falcon

Captain Falcon is a racer from his origins and though he often lives for the thrill of speed he is quite capable in combat as posessing vast strength and endurance which is unrivalled by many. 

Neutral

Falcon Punch 

Side

Raptor Boost

Up

Falcon Dive

Down

Falcon Kick

Final Smash

Blue Falcon

Yoshi

Yoshi is the lovable Dinosaur who helped raise Mario and Luigi as babies. Yoshi has the unique ability to ingest many foods which allow him access to a variety of skills. He is also able to hover in the air to move further.

Neutral

Egg Bomb 

Side

Tongue Lash

Up

Flutter Jump 

Down

Ground Pound 

Final Smash

Super Dragon 

Wario

Wario is a selfish, hoarding and obese enemy of Mario's, even though he has clashed with the plumber on multiple occassions they seem to be on fairly allied grounds, his greatest combat with the plumber was when he took over Mario's Castle.

Neutral

Chomp

Side

Motorbike Ram

Up

Corkscrew 

Down

Wario Waft 

Final Smash

Wario Man 

Villager

This mute person of the bizarre town where animals of all types live together is able to solve any problem they present to him/her. While not known for fighting he has many diverse ways of attacking out of the classical punching and kicking.

Neutral

Garden 

Side

Lloid Rocket

Up

Balloon Trip 

Down

Timber

Final Smash

New House 

Marth

An impressive Fighter and the Hero-King. He is very capable with his Sword and is deadly to many who face him in combat.

Neutral

Shield Buster

Side

Dancing Blade 

Up

Dolphin Slash 

Down

Counter 

Final Smash

Critical Hit 

Roy

Roy is a Master Lord of his lands and wields the Sword of Seals. Both Agile and fairly bulky he may not be the biggest fighter out there but he is determined none the less. 

Neutral

Flare Blade 

Side

Double-Edge Dance 

Up

Blazer 

Down

Counter

Final Smash

Critical Hit

Ike

Ike is the leader of the Greil Mercenaries and a fearless leader at that. While not being of noble heritage like Roy or Marth, he does not need to be to show his power, with his mighty Ragnell with him he can conquer even the toughest foes. 

Neutral

Eruption 

Side

Close Combat

Up

Aether

Down

Counter

Final Smash

Great Aether

Lucina

The current wielder of the Falchion a powerful blade attached to other great heroes including Marth and Chrom. She is incredible adaptable in battle and is quite crafty.

Neutral

Storm Thrust 

Side

Heavy Blade

Up

Crescent Slash

Down

Counter

Final Smash

Critical Hit 

Robin

With his Tome Book and Levis Sword Robin is able to cast powerful magic and attack with great intensity. Regardless of what the situation is Robin is able to fall back on one way to fight.

Neutral

Thunder

Side

Fire Wall 

Up

Elwind 

Down

Nosferatu 

Final Smash

Arcfire Elwind

Kirby

This lovable pink ball of happiness called Kirby is more than meets the eye as he has the unique ability to absorb anything in his wake including other characters. This allows him to steal their abilities and use them for his own. 

Neutral

Inhale 

Side

Sword

Up

Rocket

Down

Stone

Final Smash

Hypernova Kirby 

King Dedede

The cunning and ever greedy King Dedede takes to the stage with his powerful hammer. Capable of devastating attacks and his ability to float and inhale opponents, Dedede is more than a match for most.

Neutral

Inhale 

Side

Hammer Tornado

Up

Hammer Thrust

Down

Hammer Spin

Final Smash

Rocket Hammer 

Meta Knight

The mysterious swordsman, Meta Knight not appear intimidating initially but after he whips out his Mach Tornado one might think otherwise. He is a skilled sword fighter and can use his wings for a brief moment of flight.

Neutral

Fury Slash 

Side

Spiral Stab

Up

Sword Thrust 

Down

Sword Downward Stab

Final Smash

Mach Tornado

Olimar

A Quirky explorer, Olimar himself is not one to fight but instead leads an army of Pikmin to his aid. Red, Blue, Yellow, Purple, White, Pink and Stone Pikmin all help him out with their special abilities to defeat opponents of any size.

Neutral

Throw Pikmin

Side

Rocket Pikmin

Up

Summon Pikmin 

Down

Pikmin Defence

Final Smash

Pikmin Invasion

Fox McCloud

Fox McCloud is an Ace in Space, flying his infamous Arwing through the stars to defeat any evil that plagues the galaxy. He can also use weaponry such as pistols and personal shields to protect him in close combat.

Neutral

Blaster 

Side

Illusion Fox

Up

Back Dash Flip 

Down

Reflector

Final Smash

Arwing

Falco Lombradi




The defiant Falco Lombradi has been a permanent member of Fox's Squad and has proven himself countless times to be an ace pilot. While focusing more on speed more than his comrade, Falco is able to manuever around fights quickly.

Neutral

Quick Blaster

Side

Razor Wing

Up

Flaming Falcon

Down

Reflector

Final Smash

Landmaster

Wolf O'Donnell

Fox's opposite and rival, Wolf is a powerful foe who uses his own squad to fight Fox wherever the two may clash. He is stronger than Fox but not as quick-witted and can be caught off-guard.

Neutral

Heavy Blaster 

Side

Dark Charge 

Up

Might Dash Strike 

Down

Reflector

Final Smash

Red Fang

Pikachu

The little Electric Mouse packs more than just your average amount of electricty. Being able to control Lightning with a powerful Thunderbolt, Pikachu proves that even the smallest creatures can cause mayhem and havoc.

Neutral

Thunderbolt 

Side

Iron Tail 

Up

Double Team

Down

Discharge 

Final Smash

Volt Tackle 

Greninja

Hailing from Kalos, Greninja is a master of speed and trickery using moves like Substitute and Water Shuriken to disarm and turn the tide in battle. He is intelligent and powerful in all forms of attack.

Neutral

Water Shuriken 

Side

Lick

Up

Acrobatics

Down

</span>Substitute

Final Smash

Hydro Cannon

Charizard

A Powerhouse of a Fire Pokemon. Charizard is able to breathe powerful fire, fly and attack with furious slashes. Its not a Pokemon you want to get on the wrong side of and it can even Mega Evolve!

Neutral

Flamethrower

Side

Dragon Tail

Up

Fly

Down

Earthquake

Final Smash

Mega Charizard X

Lucario

The Pokemon of Aura from Sinnoh, Lucario is a powerful fighter able to use direct combat attacks as well as its special Aura Attacks. It is fast and strong so watch out and if that's not all it can Mega Evolve too. 

Neutral

Force Palm

Side

Aura Sphere 

Up

Metal Claw 

Down

Bone Rush

Final Smash

Mega Lucario 

Jigglypuff

Jigglypuff is the Balloon Pokemon who is capable of much more than floating abilities. Jigglypuff can summon moon strikes and roll like a boulder, being tougher than steel on impact. One would be wary when near Jigglypuff as it can send you flying. 

Neutral

Doubleslap

Side

Rollout

Up

Sing 

Down

Hyper Voice 

Final Smash

Moonblast 

Wii Fit Trainer

Just because they're not known for fighting the Wii Fit Trainer is able to pull off some impressive moves thanks to all the techniques and exercise games they've mastered, watch out though because they can summon a flurry of copies to attack. 

Neutral

Sun Salutation 

Side

Tightrope Chaos 

Up

Super Hoop

Down

Wrecker Swing

Final Smash

Wii Fit Plus

Shulk

A Powerful fighter on a journey to take down the Mechon, Shulk uses his Monado arts to fight. Powerful and diverse moves allow Shulk to clean the battlefield and claim victory. 

Neutral

Monado Arts 

Side

Back Slash 

Up

Air Slash 

Down

Vision 

Final Smash

Chain Attack

Pac-Man

A Relic from the past, Pacman is back to cause more mayhem. Being able to eat anything in his path he's not one to back down easily. He can even some some of hist 8-Bit Friends. 

Neutral

Power-Up Frenzy 

Side

Pac Chomp

Up

Meteor Trampoline 

Down

Fire Hydrant 

Final Smash

Power Pellet Pacman 

Mega Man

A Robot who was once a simple cleaning machine, Mega Man has proven time and time again his worth and ability to overcome any foe. With the powers of over 70 Robot Masters within him he is no pushover. 

Neutral

Metal Blade

Side

Flame Sword 

Up

Spark Shock 

Down

Leaf Shield

Final Smash

Mega Legends 

Solid Snake

Despite being a clone of the infamous Big Boss, Snake has become a legend in his own name fighting some of the toughest enemies of his time and even using a Metal Gear in combat. He has a diverse set of weapons at his disposal and a some powerful explosives.

Neutral

Hand Grenade 

Side

Remote Missile

Up

Cypher

Down

C4

Final Smash

Metal Gear REX

Sonic

The Fastest thing alive, Sonic lives up to that name with his extreme speed. He may not be strong but his speed makes it hard to catch him, he can even summon the chaos emeralds to assist him in dire situations. 

Neutral

Spin Dash 

Side

Rolling Wheel

Up

Bounce Spring

Down

Z-Target

Final Smash

Super Sonic 

Mii

Fight, Clash or Shoot your way to victory with your personal Mii, break out the beserker powers and defeat any enemy.

Neutral

Megaton Punch/ Sword Strike/ Buster Shot

Side

Cross Arm Slam/ Double Ring Slash/ Power Beam Cartwheel

Up

Saving Uppercut/ Up Slash Dash/  Jet Propulsion

Down

Terra Breaker/ Sword Sweep/ Overload

Final Smash

Mii Storm 
Newcomers
Character Name

Image

Information

Move Type

Attack

Cranky Kong

DK's grandfather and a capable fighter even in his twilight years. Cranky is able to use his cane and old fighting skills to claim his way to victory. 

Neutral

Oil Drum

Side

Barrel

Up

Pogo Launch 

Down

Cane Sweep 

Final Smash

Mega Barrel Throw 

Dixie Kong

Dixie Kong brings even more ape power to the battle with her agility similar to Diddy's as well as her ability to hover. She may not be too strong but she is evasive and cunning. 

Neutral

Hair Spin

Side

Rambi Charge 

Up

Heli Hurricane 

Down

Backflip Kick 

Final Smash

Corkscrew Dive 

Ridley

The Reptilian Space Pirate and oldest enemy of the bounty hunter Samus Aran. Ridley is a powerful and extremely dangerous foe, he is deadly and has many ways of attacking his foes.

Neutral

Slash 

Side

Fire Breath 

Up

Sky Launch 

Down

Tail Spike 

Final Smash

Omega Ridley

Rundas

A conflicted Phrygisian, Rundas is able to use Ice and Phazon based attacks to fight. Even though his mind is in turmoil between Good and Evil he knows his duty as a hunter even if that means putting himself in danger.

Neutral

Ice Missile

Side

Ice Burst 

Up

Ice Slide 

Down

Phazon Detnonate

Final Smash

Frozen Phazon Beam

Demise

The original incarnation of evil, Demise's goal in life was to claim the Triforce, despite not being able to achieve this goal he sent his hatred of the Hero of the Sky forth and was reincarnated as new villains including the powerful Ganondorf. He embodies power and aggression and can use the Demon Sword throughout his fight.

Neutral

Lightning Slash

Side

Heavy Sword Dive

Up

Lightning Jump

Down

Thunder Shield

Final Smash

Skyward Strike 

Midna

The Twilight Princess, Midna is a crafty fighter able to use her abilities to overcome opponents much larger than her. Even her final smash will leave them running. 

Neutral

Wolf Howl

Side

Twili Charge

Up

Wolf Soar 

Down

Twili Shield

Final Smash

Fused Shadow 

Zant

Usurper to the Twilight Throne, Zant is a broken man, enraged by insanity he attacks with ferocity and aggression with his two scimitars. He can also warp reality to his advantage and create illusions.

Neutral

Scimitar Madness

Side

Energy Shot

Up

Twilight Redemption

Down

Iron Helmet

Final Smash

Scimitar Energy Flurry 

Medusa

The Snake Haired Goddess of Darkness, Medusa was banished to the underworld by Palutena and vowed to one day overthrow Palutena. She may be evil but hates being controlled and will fight those who try to make her their puppet.

Neutral

Serpent Snap

Side

Homing Magicka

Up

Serpentine Jump

Down

Toxic Mist

Final Smash

Monsterous Medusa

King Hippo

A big fighter and foe of Little Mac, King Hippo is able to take a substantial amount of damage without flinching. He is extremely slow however but if he lands a hit, it'll seriously pack a punch. 

Neutral

Jab

Side

Belly Bounce 

Up

Raise Punch

Down

King's Defence 

Final Smash

Double Hook

Chrom

A descendant of the Hero-King Marth, Chrom is a powerful fighter as well the Exalt of Yslisse. He wields the powerful Falchion and has the mark of Naga on his Right Shoulder.

Neutral

Dual Strike 

Side

Bow Breaker

Up

Aether 

Down

Rightful King 

Final Smash

Charm

Titan Dweevil

A Nightmarish creature and a giant at that. The Titan Dweevil has several powerful weapons at its disposal nad is dangerous to those who come too close to it.

Neutral

Electro Jab

Side

Hydro

Up

Fiery Jets< 

Down

Toxic Cloud< 

Final Smash

Weapon Overload 

Sceptile

The Hoenn Gecko, Sceptile is a formidable foe, able to use powerful Grass Type attacks as well as impressive Dragon type attacks. It is fast and powerful although not very good at taking too many hits. 

Neutral

Leaf Blade 

Side

Dragon Tail

Up

Fury Cutter

Down

Slam

Final Smash

Mega Sceptile 

Bayonetta

Un Umbra Witch with a talent for Bullet Arts, Bayonetta is the overseerer of the darkness. Able to summon Madama Butterfly through the power of her Wicked Weaves, Bayoneeta is a powerful opponent. 

Neutral

Shuraba

Side

Kulshedra

Up

Durga 

Down

Sai Fung

Final Smash

Summon Madam Butterfly Complete 

Cloud Strife

A Mighty warrior, Cloud initially had trouble remembering his past believing himself to be a member of SOLDIER. He wields the mighty Buster Blade a giant Blade standing several feet tall. He is a masterful swordsman and despite being arrogant he is determined. 

Neutral

Blade Beam 

Side

Cross Slash

Up

Meteorain

Down

Braver 

Final Smash

Omnislash 

Rayman

A Bizarre character to say the least, Rayman is not so much a fighter as he is a platforming master. Able to move will impressive flexibility he also can use his detached hands to fight opponents from a greater distance than most.

Neutral

Hand Slap 

Side

Jump Kick

Up

Wall Jump

Down

Hand Slam

Final Smash

Team Smash 
DLC Characters
DLC characters do not have descriptions as they do not have trophies.
DLC 1 - Old and New
Character Name
Image
Move Type
Attack

Lord Fredrick




Neutrall

Ice Ball

Sidel

Ice Dragons l

Up

Frosty Slide

Downl

Horn Barrier

Final Smash

Penguin Invasion l

Chinese Phoenix

Neutrall

Inferno

Sidel

Scorching Whirl l

Up

Sky Soar

Downl

Duality Breaker

Final Smash

Yin-Yang Conversion l

Ono No Michikaze

Neutral

Rainstorm

Side

River Wave

Up

Rising Wind

Downl

Tranquility Boost

Final Smash

Great Rainstorm

Masked Man

Neutral

Beam Shot l

Side

Electro Shock

Up

Saber Dive

Down

Shield

Final Smash

PK Love l

Ice Climbers

 

Neutral

Ice Shot

Side

Hammer Smash

Up

Belay l

Down

Blizzard

Final Smash

Great Glacier

Inklingl

Neutral

Colourize

Side

Flip Shot

Up

Squidling Launch

Down

Splatter Slide l

Final Smash

Splat Flood

Krystall

Neutral

Blaster Shot

Side

Side Swipe Kick

Up

Spin Kick Flip l

Down

Reflector

Final Smash

Landmaster

Andyl

Neutrall

Power Wrench l

Sidel

Light Tank

Up

Bomber

Downl

Hyper Repair l

Final Smash

Hyper Upgrade l

Bill Rizer

Neutral

Lazer Gun l

Side

Flamethrower

Up

Wall Jump

Down

Shield Turret

Final Smash

Scatter Machine Gun l

Simon Belmont

Neutral

Sword l

Side

Dagger

Up

Holy Water l

Down

Wall Chicken

Final Smash

Summon Dracula l

Sir Arthur

Neutral

Lance Jab

Side

Lance Charge

Up

Armour Break l

Down

Armour Recall

Final Smash

Invincible Armour

Hero (Dragon Quest)

Neutral

Zap l

Side

Kazap

Up

Disruptive Wave l

Down

Meditation

Final Smash

Giga Slash

Black Shadow

Neutral

Fierce Headbutt

Side

Bull Charge l

Up

Skyshot Bull

Down

Cape Cover l

Final Smash

Black Bull l

Cronol

Neutral

Cyclone 

Side

Wind Slash

Up

Raise l

Down

Frenzy l

Final Smash

Triple Attack
DLC 2 - Bulking the Family
Character Name

Image

Attack Type

Attack Name

Wart

Neutral

Bad Bubble

Side

Hydro Jet

Up

Aqua Rise

Down

Cursed Barrier

Final Smash

Plant Horn 

Kamek

Neutral

Magic Blast

Side

Broom Sweeper

Up

High Hat Float

Down

Magi-Brick Defence

Final Smash

Kamek Brick Breaker 

King K. Rool

Neutral

Blunderbuss

Side

Blunderbuss Vacuum

Up

KAOS

Down

Kremling Protection

Final Smash

Boxing King 

Mewtwo

Neutral

Psybeam

Side

Psystrike

Up

Thunder

Down

Barrier

Final Smash

Mega Mewtwo X

Zoroark

Neutral

Night Slash

Side

Shadow Ball

Up

Thief

Down

Hone Claws

Final Smash

Illusion

Tyranitar

Neutral

Rock Slide

Side

Crunch

Up

Aerial Ace

Down

Protect

Final Smash

Mega Tyranitar

Veran

Neutral

Dark Magic

Side

Spider Form 

Up

Wisp Morph

Down

Beetle Form

Final Smash

Bee Form

General Onox

Neutral

Spike Ball

Side

Long Throw

Up

Draconic Reach

Down

Reptilian Armour

Final Smash

Dark Dragon 

Magalor

Neutral

Spiky Thorns

Side

Magician's Fire

Up

Lor Starcutter

Down

Star Protect

Final Smash

CROWNED 

Queen Sectonia

Neutral

Energy Sphere

Side

Sword Rush

Up

Royal Soar

Down

Gem Breaker

Final Smash

FLOWERED 

SA-X

Neutral

Ice Beam

Side

Missile

Up

Screw Attack

Down

Super Bomb

Final Smash

Hyper Morph 

Omega Metroid




Neutral

Bite

Side

Carnivorous Slash

Up

Omega Leap

Down

Hardened Shell

Final Smash

Life Leech

Pokey Minch

Neutral

Robo Claw

Side

3 Man Strike

Up

Spider Mecha

Down

Absolutely Safe Capsule

Final Smash

Pig King Statue 

Mona

Neutral

Side

Up

Down

Final Smash

Bass Guitar

Plasma Wraith

Neutral

Side

Up

Down

Final Smash

Liquify 

Anna

Neutral

Side

Up

Down

Final Smash

Coin Barrage

Tharja

Neutral

Side

Up

Down

Final Smash

Hex 

Leon Powalski

Neutral

Side

Up

Down

Final Smash

Wolfen II

Fiora

Neutral

Side

Up

Down

Final Smash

Exo-Skeletal Armour 

Ms. Pac-Man

Neutral

Side

Up

Down

Final Smash

Ghost Chain 

Zero

Neutral

Side

Up

Down

Final Smash

Point Blank Charge Shot

Big Boss

Neutral

Side

Up

Down

Final Smash

Diamond Dogs 

Ocelot

Neutral

Side

Up

Down

Final Smash

Metal Gear RAY 

Tails

Neutral

Side

Up

Down

Final Smash

The Tornado 

Glass Joe

Neutral

Side

Up

Down

Final Smash

Secret Armour 
Starting Characters
Like in all Smash Bros. games, there is a starting roster for Destruction which consists of a regular amount of the characters in the game. The starting roster consists of 24 characters.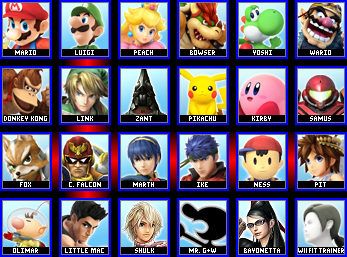 As with other Smash Bros. games common characters like Mario, Donkey Kong, Link, Pikachu, Kirby, Samus & Fox appear in the Starter Roster. Although uncommonly Mr. Game & Watch appears in the Starter Roster, and despite being their first appearances in the Smash games, Zant & Bayonetta are also starter characters. As players fight and complete the different game modes they are able to unlock the other 39 characters (excluding DLC). From these the characters of the roster re-arrange and increase in multitude.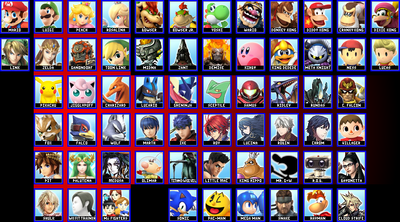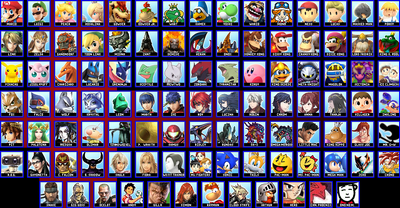 Stages
The game has a total of 75 Stages varying from returning stages like Fountain of Dreams and Windy Hill to new locations like Wild World, Turtle Rock & Captain Toad Level.
| | | | |
| --- | --- | --- | --- |
| Image | Stage Name | Description | Franchise |
| | Battlefield | A Classic in all descriptions of the word, Battlefield is a simplistic stage where classic battles happen. | Super Smash Bros. |
| | 1-1 | Goombas & Koopa Troopas aren't the only enemies to fight on this recreation of the infamous opening Level to Super Mario Bros. | Super Mario |
| | Motley Bossblob's Circus | This giant Circus act is complete with Tightropes, Big Tents & Flaming Hoops and sometimes even the star of the show will appear to really make a big bang. | Super Mario |
| | Delfino Plaza | This Tropical paradise is disrupted by the ocassional volcanic eruption but still manages to remain a recommended travel destination all the time. | Super Mario |
| | Comet Observatory | The home of Rosalina and the Lumas, this Observatory in Space is equpiied with various rooms and sometimes the Starship Mario comes to visit. | Super Mario |
| | Captain Toad's Adventure | Go on an adventure with Captain Toad, as you journey around the puzzling locations he visits and even have some of his biggest foes appear. | Super Mario |
| | Boo Mansion | This spooky mansion is haunted by the classic ghost enemies from the Mario series. Navigate around the house and even encounter King Boo at the Top. | Super Mario |
| | Strikers Field | This field normally held for intense Soccer tournaments has been collided with the fights of the Smash Bros, so be careful as the insane tricks of the soccer players might just overwhelm the fighters. | Super Mario |
| | Hyrule Field | | Legend of Zelda |
| | Gerudo Valley | | Legend of Zelda |
| | Turtle Rock | | Legend of Zelda |
| | Skyloft | | Legend of Zelda |
| | Death Mountain | | Legend of Zelda |
| | Pyramid  of Power | | Legend of Zelda |
| | Mt. Silver | | Pokemon |
| | Cave of Origin | | Pokemon |
| | Pastoria Marsh | | Pokemon |
| | Lumiose City | | Pokemon |
| | Temporal Tower | | Pokemon |
| | Wild World | | Kirby |
| | Egg Engines | | Kirby |
| | Fountain of Dreams | | Kirby |
| | Dyna Blade's Nest | | Kirby |
| | Jungle Hijinx | | Donkey Kong |
| | Stormy Shore | | Donkey Kong |
| | Ruined Roost | | Donkey Kong |
| | Meltdown Mayhem | | Donkey Kong |
| | Diddy Racing Island | | Donkey Kong |
| | Brinstar | | Metroid |
| | Temple Grounds | | Metroid |
| | Skyworld | | Kid Icarus |
| | Underworld | | Kid Icarus |
| | Boxing Ring | | Punch-Out!! |
| | The Cave of the Past | | Mother |
| | New Pork City | | Mother |
| | Mute City | | F-Zero |
| | Yoshi's Island | | Yoshi |
| | Coliseum | | Fire Emblem |
| | Castle Siege | | Fire Emblem |
| | Great Fox | | Starfox |
| | Formidable Oak | | Pikmin |
| | Wuhu Island | | Wii Fit |
| | Tanks | | Wii Play |
| | Laser Hockey | | Wii Play |
| | Animal Racing | | Wii Party |
| | Fallen Arm | | Xenoblade |
| | Gaur Plain | | Xenoblade |
| | Pac-Maze | | Pac-Man |
| | Air Man's Stage | | Megaman |
| | Boss Rush Room 2 | | Megaman |
| | Dr. Wily Castle 10 | | Megaman |
| | Shadow Moses Island | | Metal Gear |
| | Outer Haven | | Metal Gear |
| | Windy Hill | | Sonic |
| | The Pit | | Sonic |
| | Olympus Maximus | | Rayman |
| | Northern Cave | | Final Fantasy |
| | Inside Sin | | Final Fantasy |
| | Streetpass Plaza | | Streetpass |
| | Find Mii | | Streetpass |
| | WarioWare Inc. | | Wario |
| | Balloon Fight | | Balloon Fight |
| | Streets | | Nintendogs |
| | Tomadachi Beach | | Tomadachi Life |
| | Tomadachi Life | | Tomadachi Life |
| | Tortimer Island | | Animal Crossing |
| | Pilot Wings | | Pilot Wings |
| | Dig Dug Tunnels | | Dig Dug |
| | Motorcross Jumps | | Excitebike |
| | Simcity | | Simcity |
| | Bomberfield | | Bomberman |
| | Mini Planets | | Super Smash Bros. |
| | Elemental Strife | | Super Smash Bros. |
| | Labyrinth | | Super Smash Bros. |
| | Final Destination | | Super Smash Bros. |
Modes
TBA
Gallery
TBA
Ad blocker interference detected!
Wikia is a free-to-use site that makes money from advertising. We have a modified experience for viewers using ad blockers

Wikia is not accessible if you've made further modifications. Remove the custom ad blocker rule(s) and the page will load as expected.