Ad blocker interference detected!
Wikia is a free-to-use site that makes money from advertising. We have a modified experience for viewers using ad blockers

Wikia is not accessible if you've made further modifications. Remove the custom ad blocker rule(s) and the page will load as expected.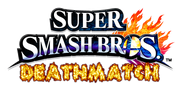 Super Smash Bros. Deathmatch is a very loose spin-off in the Super Smash Bros. Franchise. The game departs from the classic damage precentages, and instead replaces it with a fighting style similar to that of MTV's Celebrity Deathmatch. Various characters from all forms of media appear as the roster of the game.
Gameplay
Story
Starting Characters
Hidden Characters
Super Smash Bros. Deathmatch/Hidden Characters
NPCS
| Image | Name | Bio | Series |
| --- | --- | --- | --- |
| | Jonny Gomez | Jonny Gomez is one of the commentators of Super Smash Bros. Deathmatch.  | Celebrity Deathmatch |
| | Nick Diamond | TBA | Celebrity Deathmatch |
| | Master Hand | TBA | Super Smash Bros. |
| | Crazy Hand | TBA | Super Smash Bros. |
| | Mills Lane | Mills Lane is the referee of the Smash Bros. Deathmatch, and he pretty much allows just about anything to go on in his ring... unless you bring guns into battle or if your a Pokemon Trainer that has your Pokemon do your dirty work. | Celebrity Deathmatch |
| | Tally Wong | TBA | Celebrity Deathmatch |
| | Tom Tucker | TBA | Family Guy |
Stages