The pallete swaps of the characters in SSBC. Every character has 6 palette swaps, one normal, four different and one unlockable. Palette Swaps on italic are unlockable.
Mario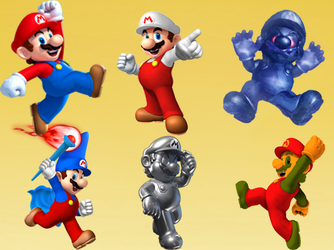 Normal: Based his appearances in mainstream Mario games.
Fire: Based on his Fire Mario power-up.
Shadow: Based on Bowser Jr's costume in Super Mario Sunshine. To unlock, you have to beat Bowser Jr. at the Story Mode.
Magic: Based on his Magic Power-up.
Metal: Based on the character nicknamed Metal Mario.
Classic: Based on his apperance on Super Mario Bros. To unlock, you have to beat 200 matches as Mario.
Link
Kirby
Pikachu
Samus
Zero Suit Samus
Zelda
Sheik
Donkey Kong
Yoshi
Peach
Ice Climbers
Pit
Wario
Diddy Kong
Meta Knight
Lucas
King Dedede
Olimar
Sonic
Ninten
Waluigi
Krystal
Rayman
Unova Pokémon Trainer
Tails
Chibi-Robo
Globox
Banjo & Kazooie
Amy Rose
Geno
Little Mac
Toad
Midna
Waddle Dee & Waddle Daa
Shadow
Mega Man
Barbara
Grand Minimus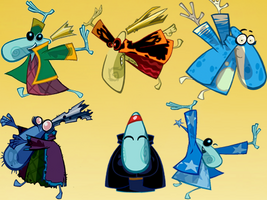 Normal: Based on his most appearences on the Rayman franchise.
Fire: Based on Fire Teensy from Rayman Origins.
Globox: Based on GlobTeen from Rayman Origins. Unlocked by completing Globox's Target Test.
Zombie: Based on The First Grand Minimus from Rayman Origins.
Ninja: Based on Ninja Teensy from Rayman Origins.
Wizard: Based on Wizard Teensy from Rayman Origins.
Zoroark
Sukapon (DLC)
Neku Sakuraba (DLC)
Fire Man (DLC)
Prince Fluff (DLC)
Paper Mario (DLC)
Bomberman (DLC)
Sora (DLC)
Ad blocker interference detected!
Wikia is a free-to-use site that makes money from advertising. We have a modified experience for viewers using ad blockers

Wikia is not accessible if you've made further modifications. Remove the custom ad blocker rule(s) and the page will load as expected.