THIS IS A FAN FICTION CREATED BY VideoGameBlogger! DO NOT WRITE ANYTHING ON THIS PAGE WITHOUT PERMISSION!!! THANK YOU FANTENDO USERS!!!
Super Smash Bros. Clash V.2 is the next installment in the series.
Super Smash Clash V.2 was developed by Sora LTD, Hal Labortory, Intelligent Systems and THQ.
The game's planned release date in North America was on August 13, 2014 in North America. The game was designed by Masahiro Sakurai, who also created the four previous installments. Super Smash Bros.Clash V.2 is planned to release on the Nintendo WiiU and Nintendo 3DS.
Creation and Development
At the pre-E3 2011 press conference, the president of Nintendo, Satora Iwata, announced the fifth installment of The "Super Smash Bros.(series)" was already in Development. The official trailer will be unveiled on June 22, 2014 as planned. In a interview on IGN, Sakurai said that the WiiU's motion sensor and Gamepad might not be included.
Opening Movie:
The opening movie by IGN is still in development. The Video show's alittle of the online play and Vs. Mode matches. It shows very unique footage similar to Super Smash Bros. and Super Smash Bros. Melee.
Characters: The cast of 25 playable characters (Including Unlockable) Includes 15 returning veterans from Brawl, and 10 newcomers.
There will be a few third-party characters to fill the roster. He also announced that there will be no story mode for this installment.
==Characters:  Veterans-==
1.Mario
2.Luigi
3.Peach/Zero Suit Peach
4.Bowser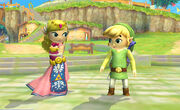 5.Yoshi
6.Donkey Kong
7.Link
8.Zelda/Shiek
9.Samus/Zero Suit Samus
10.Kirby
11.Fox
12.Pikachu
13.Toon Link
14.Olimar & Pikmin
15.Sonic
Newcomers- 1.Princess Shokora
2.Toon Zelda/Toon Shiek
3.Ashley
4.Wilfre
5.Pac-Man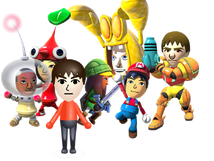 6.Dixie Kong
7.Mii
8.Princess Midna
9.Villager
10.Rosalina & Luma
Classic Mode
There will be a returning classic mode in this installment. As of May 2014, Master Hand will return as the main villain alongside Ganondorf who will not be playable. The player has to fight various Nintendo and third-party characters to get to the main antagonist of classic mode.

All Star Mode
This mode is very similar to Classic Mode's. You would have to fight all 25 characters in a specific order. (Warning: You can not play this mode if you had not unlocked all 25 characters!)

Trophies
Trophies also return as the history of Nintendo. You can go through Nintendo's past's games and learn information straight from your WiiU or 3DS!
Ad blocker interference detected!
Wikia is a free-to-use site that makes money from advertising. We have a modified experience for viewers using ad blockers

Wikia is not accessible if you've made further modifications. Remove the custom ad blocker rule(s) and the page will load as expected.